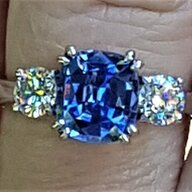 Joined

Apr 5, 2012
Messages

525
Hi PS'ers

Like many on PS, I enjoy owning different diamond cuts. Although most fancies don't seem to have quite the light performance of an ideal cut round brilliants, they each have their charms

One thing I have noticed is that some of them seem to hold up better than others when not perfectly clean. So I find myself saving some fancy cuts for certain wearing opportunities where I am less likely to get them dirty (I'm a bit of a perfectionist and my deep cleaning regime seems to take forever

). And I find I can tolerate longer periods of wearing my round brilliants between cleans than a couple of my other fancy cut pieces. And that they are easier to bring up to scratch with a quick clean rather than the full regime. Although my elongated cushion modified brilliant seems to maintain its fire and brilliance really well between cleans.
Maybe a strong ASET correlates with good performance in the face of grime? Or maybe its to do with the size and arrangement of the facets? Or the "brilliance" of the cut? Eg do August vintage cushions show dirt more easily than well cut brilliant cushions? Or AVRs? Do Asschers hide dirt better then EC's? Or does it all depend on the proportions and cut quality?
I would love to hear from owners of non-round brilliants - what cut do you have and how well does it perform when dirty?