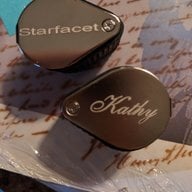 Joined

Nov 25, 2017
Messages

2,001
Hi everyone! I finally have my CBI halo ring in its finished state back from DK after having some polishing issues fixed and of course the brouhaha over a nasty person using photos of my ring to sell her ring on LT. I've put all this behind me, and now I'd like to share the story of how this ring came into being.
Almost ten years ago, I purchased a 1 ct. CBI which I had to sell soon after because my husband's illness caused him to lose his job. Fast forward to last summer when I went to Boise for the HPD GTG which rekindled my love for CBIs and the spectacular service that
@Wink
Jones offers his customers. I knew then that I wanted to get back into the CBI family, I just didn't know when I'd be able to. In March, I decided I could part with my 1.72 J AVR so that I could purchase the 1.64 K SI1 CBI that had just come up on the site which I understand was previously owned by
@matt_k
.
@Winks_Elf
Melissa at HPD was beyond patient with me while I was going through the process of selling one stone and buying another. I can't thank her enough for putting up with all my crazies.For the setting, I kept going back to the halo design that my MRB moissanite had been set in (the one that ended up for sale again on LT) so I decided to go with that style but have DK put his lovely millegrain on all the edges and set the CBI with claw prongs.
The other goodie is an OEC brooch that I had DK convert to a pendant. I think there are about 2 cttw of diamonds, but I'm not completely sure. The brooch came from my favorite secondhand jewelry store, and I knew I had to have it when I saw those twinkly little OECs. I tried wearing it as a brooch but realized I'd wear it more as a pendant. The top is platinum and the underneath is 18K yellow gold, so now I need to decide what color chain I should get.
I've attached a few photos of each. I'll try to get the shots of the pendant on a chain another day. Thanks for reading all of this!