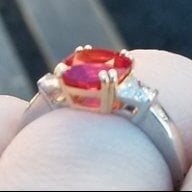 Joined

Nov 3, 2009
Messages

7,589
As a child, I used to grow crystals in glass jars. I still remember the sight of them on my window sill.
I wonder... don't laugh at me, please... can one grow a crystal of a gem? A simulant? Quartz is grown hydrothermally, can I do it in my kitchen?

Don't laugh, please... I do not know that much about the mechanics of hydrothermal synthesis, but since ebay is full of simulant quartz, perhaps it is not so difficult?