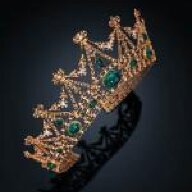 Joined

Jul 27, 2011
Messages

325
I know the chances are beyond slim. More than likely, I will never see my earrings again. However, if there is a chance I am willing to try anything. If there is a group of super hunters and passionate jewelry lovers who appreciate these pieces, the value and artistry of individual antique jewelry and the meaning they have, who could recognize my piece, this is the place. I need help.
Perhaps you can help me.
Maybe you will remember the description of the earrings.
Maybe the picture will sink into your mind.
Maybe you will tag friends on this post so they see it too.
Maybe some of them will remember.
Maybe you follow estate sales and jewelry sites, insta posters
Maybe somewhere down the line, maybe just maybe someone will see my earrings.
We were robbed, I will post all the details in a separate post. I want this post to focus on the one piece that hurts the most and the insanely slim chance that they may be recovered one day.
I was lucky enough to have a pair of antique 18k French fully hallmarked turquoise ear pendants. Each earring had a cabochon oval turquoise surrounded by 18k carved foliate motifs that enhanced the NESW of the oval, creating an undulating natural floral border around the turquoise. The pendants were suspended by a pair of chains surmounted by a small floral cluster. There were screw back earrings, with the French eagle just visible (for me only under magnification). One turquoise was more blue, the other more green.
They had been in the family for over 100 years, passed down generation to generation. I received them from my aunt's estate and I loved them.
I feel like I have let down both the previous and next generations. Thank you for your time, your help, and the hope you represent.