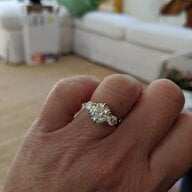 Joined

Jun 20, 2013
Messages

4,814
Hello everyone! My e-ring is a 2 carat MRB in an emilya halo by VC. I find it's a little too large and delicate for work (I am a teacher.) I love it and wear it out often, but for day to day, I'd like something a little smaller. I am looking for an OEC/AVR at about the 1 carat mark. My budget for the stone is max $5000, and I would LOVE to spend less. I am fine with lower colors in an antique cut, and I don't care if it's S1 or S2 if it's eye clean. I found this one, which seems to be a great deal:
http://www.diamondbistro.com/category/215/Loose-natural-Diamonds/listings/46112/898ct-August-Vintage-from-Good-Old-Gold.html
I also looked at a few at diamond zone:
http://www.ebay.com/itm/1ct-OLD-EUROPEAN-CUT-6-5MM-DIAMOND-EGL-USA-L-VS1-LOOSE-ROUND-ENGAGEMENT-ANTIQUE-/172086501162?hash=item2811279f2a:g:tJkAAOSw5dNWnmu-
and this one:
https://loveaffairdiamonds.smugmug.com/Loose-Vintage-and-Antique-Diam/0k93ct-Old-European-Cut-Diamond8/i-ngxBhX9
I am wondering if I will REALLY notice the difference in a .9 instead of one carat? Would you pay more for .2 mm or so of extra coverage in going from a .9 to one carat? My fingers are small- 4.5. I am looking for about 8mm worth of coverage at the most WITH the setting.
Thanks for any advice you can give