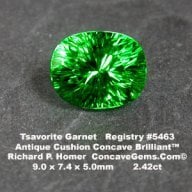 Joined

May 14, 2003
Messages

287
My wife just let me know that there is a chip on her diamond with what looks to be a spiral type of crack/splinter cracks coming from it.

Since we have been together 7 years, I don't feel AS sick to my stomach as I would have if it happened the first month of wearing it, but am at a loss of what to do.

Obviously we contacted our insurance company(they only cover lost items not chips.) and we are meeting with the jeweler who we purchased the stone from to understand the extent of the damage.

I am somehow hoping they will be willing to replace the stone, but very much doubt that will be an offer. They already suggested that they may want to repolish if possible or recut, which sounds ridiculous IMO as it will shrink the stone to under a carat.

It is doubtful that I will be wanting to pony up another 10k for a stone ever again.

Any thoughts/suggestions?