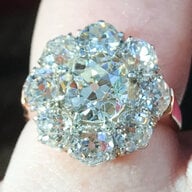 Joined

Nov 17, 2013
Messages

2,560
The other day, I went to meet with my jeweler (he is the bench at a prominent local jewelry store, and he has been setting stones for me for many years) in his private studio to plan something for the AVC diamond that I got with my PS Holiday Raffle win, and he showed me a whole bunch of stones for fun. He has an incredible collection! He seems to be stocking up for the Apocalypse, haha! One of the stones took my breath away.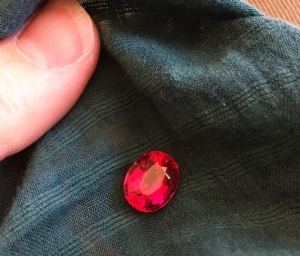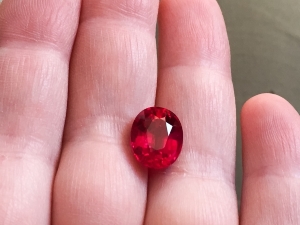 It is a glowing, vibrant red spinel. It's not precisely cut (native cut, I think), but it's deep and saturated, and it was love at first sight for me. He bought it in 2010 at a major jewelry industry show. It was sold to him as being from Myanmar. From the GIA cert:
Weight: 7.62 CT
Measurements: 12.16 X 10.02 X 7.38mm
Shape: Oval
Cutting Style: Crown - Brilliant Cut
Cutting Style: Pavilion - Step Cut
Transparency: Transparent
Color: Red
Species: Natural Spinel
Treatments: No indications of heating.
My jeweler wasn't planning to sell the stone, but I went crazy over it, haha, so he was willing to consider it. He needed some time to figure out a price. He had told me before I showed interest in it that he had gotten it for a good price (it was six years ago, and I'm sure spinel prices have risen since then). He is a fair person, and I was confident that he wouldn't gouge us, but I knew it would be a significant cost anyway.
My husband got home late that night from a business trip and I couldn't wait for him to wake up so I could talk to him about it! To my utter surprise and delight, he responded positively! When my jeweler came back with a price, it was within our budget!! We were not intending to spend a lot on jewelry this year, but stones like this don't show up all the time. So it was a go!
My jeweler had an 18k yellow gold 12x10 Stuller setting with diamond pave details that he sized for me today so I could have an instant ring. What fun! My diamond ring is on his bench in this picture, too, because he polished out some scratches that came from wearing it next to my AVC band. I'm going to have to think about adding a spacer.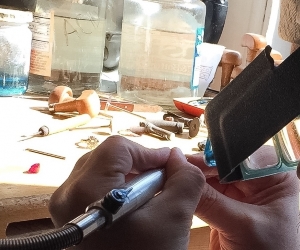 I had some errands to run today, and I picked up the spinel ring on my way home. It's SO NEW to me that I haven't gotten to experience it in all the lighting conditions, but I ran around my house briefly to see the variations, and I love it! It shows all shades of red. It's RED red in the bedroom, and it shows pink in bright sunlight. I have seen both warmer and colder tones in it, and I look forward to exploring it more! Without further ado...
Here it is with my AVC band, just for fun. I'm actually going to wear it as a RHR, not an engagement ring.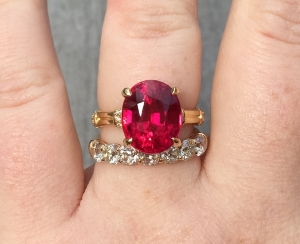 And a few more photos: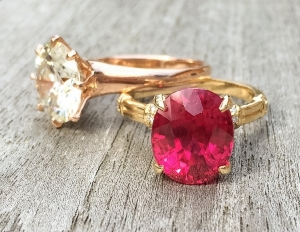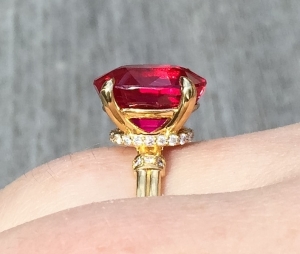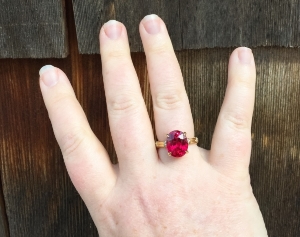 I LOVE IT!!!