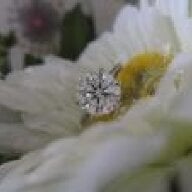 Joined

Dec 27, 2007
Messages

352
So I am pretty confused as to what to do. I have decided to go ahead and order a 34" long necklace with 22 15 pointers - 3.3 ctw
from whiteflash. I am having them placed 1.5 inches apart. I plan to double it and also wear it long.
The confusion is around the metal and the chain size. Should I do 18k yellow chain with platinum bezels or all platinum? and
Should I do 1mm chain or 1.5 mm chain?
I have mental thing about diamonds and platinum but I like yellow gold as I am from India and we do wear a lot of yellow gold and I like the idea of being able to match it with both indian outfits and regular outfits.
I have looked at some topics here with 1.5 mm chains and while it may be more durable, I don't like the thick chain. But I do have kids and I am definitely worrying about durability. Also I like the floating diamonds when the chain is 1 mm. I plan to double it as well and I don't want the chain to over power the diamonds.
I looked at this recently and I want this look( this is 1mm chain I think and spaced 1 inch apart not 1.5 inches apart) so I am torn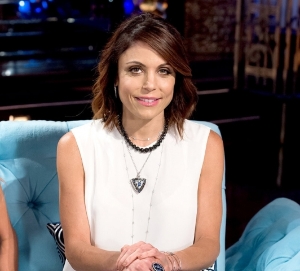 PLEASE HELP MEEEEEE
I am posting some pics of my recent trip to tiffany where I tried the platinum and gold dbty's for you to make a decision.
Yellow gold sprinkle necklace with 3.6 ctw diamonds. I believe 36 inches long and 1.5 mm chain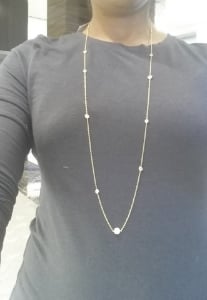 Yellow gold sprinkle necklace with 3.6 ctw diamonds. I believe 36 inches long combined with 16 inch platinum DBTY with 1.5 ctw diamonds and 1 mm chain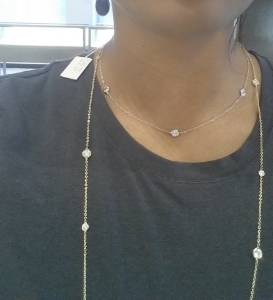 Yellow gold sprinkle necklace with 3.6 ctw diamonds. I believe 36 inches long combined with 16 inch platinum DBTY with 1.5 ctw diamonds and 1 mm chain(Another image)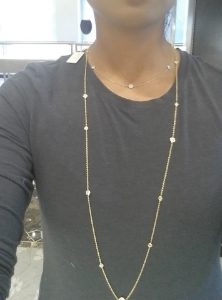 Yellow gold sprinkle necklace with 3.6 ctw diamonds. I believe 36 inches long combined with 16 inch YG DBTY with 1.5 ctw diamonds and 1 mm chain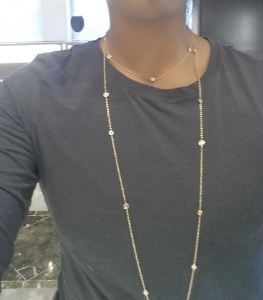 Yellow gold sprinkle necklace with 3.6 ctw diamonds. I believe 36 inches long combined with 16 inch YG DBTY with 1.5 ctw diamonds and 1 mm chain(Another image)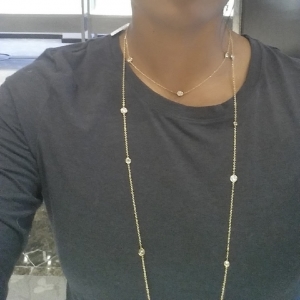 WF XO pendant in platinum - 1mm chain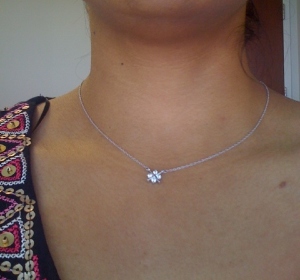 WF XO pendant in platinum - 1mm chain and Tiffany rose gold 1mm olive branch nechlace