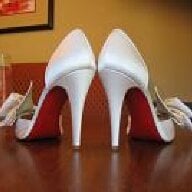 Joined

Nov 13, 2007
Messages

5,720
What is everyone planning on using or already using in order to shed pounds? Is anyone else using this?


I "re-started" 30-day Shred on Saturday. When I was in college and doing intense workouts every other morning, I had great muscle tone and was able to shed pounds easily by just skipping a few lunches... well recently I became very aware that this was no longer the case. I needed to start working out again, but since I commute to work it's very hard to make time for the gym.

So... bringing the gym home was what I opted for. I'm on Day 4 of 30-day Shred and it's going great!! I can definitely feel my muscle building back and I already feel like I have more energy. I can tell that my core is already toning up again!! Yay, abs!! Also, I've been in much better moods since starting to work out again, and FI has already noticed a difference.

Trillionaire: I bought 30-day Shred right before the hurricane hit and I had to live out of a hotel for 2.5 months. I just ran a treadmill while I was there, and it really didn't do anything. However, in 4 days of this, I have already dropped 3 lbs that I was sitting on at my plateau. I feel so much better and am happier now that I am exercising again. I would definitely recommend starting it while out of town!! I wish I had just taken it with me to Austin and worked out in my hotel room after work each day.