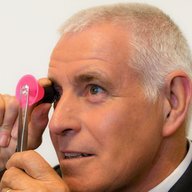 Joined

Aug 15, 2000
Messages

18,057
This is a relatively new cut and is the first time I have sold it.
There are some other similar cuts like the Criss Cut, but this one was developed with the aid of the Ideal-Scope - so I had to try some
Apologies for this is a photo from our appraisal program which uses 6 year old digital technology and a very fast appraiser who is a great at her work - but not the worlds best camera operator
The ring was picked up as soon as it was complete and there was no time to get a deceent pic.
The now engaged couple were over the moon about it. She has always liked emerald cuts (we sold her Mum a whopper 10 years ago) and could not decide between Princess as well. Here is the perfect answer. Much better light return than a princess or EC, and about midway between the pinfire scintillation of a Princess and the cool bold flashes of an Emerald cut.
For some reason you must click the pic link below to see the photo?
can you make it appear on the thread Leonid?