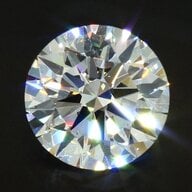 Joined

Mar 22, 2010
Messages

686
I'm on the hunt for a 3 ct stone to put in a simple platinum bezel.
Settings like these.
At first I wanted a pear but became over whelmed trying to find a well cut one. At first I thought MMD were the wild Wild West and I wasn't going to get a premium cut stone. But now I'm learning that great cutters are working with them. I should have come to PS initially!
So my focus now is getting a perfect cut. I'm thinking about the new HeritageAsscher from Distinctive Gems, as well as the Heritage Oval. Also possibly the Octavia but not sure if that's being done right now on MMD?
I love the Asscher shape but you do lose size and I have long size 7 fingers and want coverage. So that's where the heritage oval comes in. I love the faceting and it's closer to a pear but better performance.
For the asscher I like the look of a big ol'simple ice cube on the finger and I'm not sure if a 3 ct is going to have that appearance on my big hands.
I'm all over the place and if anyone has some advice I'd appreciate it!
Mainly trying to work out what shape and if anyone has pics of these cuts, or just any advice.
Initially I was looking around $15,000 to $18,000 for the budget but willing to up it to $20,000 for a better cut.
Thank you!
Last edited: