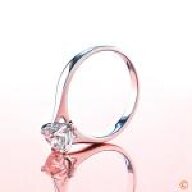 Joined

Aug 25, 2011
Messages

55
Hey all,
First time buyer here. I've been quite torn the last week or so looking at two diamonds from
BGD
. I am looking for something 0.5-0.65ct, G or H, eye-clean (probably SI1). I have been looking at these two (I was told both are eye-clean):
0.544ct:
http://www.briangavindiamonds.com/diamond/diamond-detail/?product_id=AGS-104051366051
0.628ct:
http://www.briangavindiamonds.com/diamond/diamond-detail/?product_id=AGS-104052896005
Both are AGS0, Signature stones, H, SI1 (clean), and have an HCA <2 (ex-ex-ex-vg).
I am by no means an expert when dealing with IS and ASET images and as such I don't know how significant some things are. The 0.628ct hearts image looks darker to me. Is this cause for concern or simply because of the way the picture was taken? The hearts look much lighter/cleaner to me on the smaller stone. However, the smaller stone's IS seems to have more light leakage, but are they really that different? From the little I know both IS images seems to be great - I am just wondering if there is any difference at all, significant or not, or are these two stones basically the same just different sizes?
I am torn between the sizes. The 0.544ct is 0.523x0.526 and the 0.628ct is 0.551x0.556. Is it worth an extra ~$450 to get the slightly larger stone or will the difference barely be noticable? For reference, I'd love to set the diamond in the Classic Truth setting from
BGD
:
http://www.briangavindiamonds.com/home/ring-details/?product_id=5369
and her ring size is 6.0.
So basically my question is two-fold:
(1) What differences are there in terms of performance between the two or is the only difference weight/size
(2) Do those prices seem reasonable? How much of a visual upgrade in size is the larger rock? Significant upgrade or really hard to tell? Is that worth the extra $$$?
Thanks so much! Even if you don't have a
real
reason for picking one over the other, which would you pick? I'm truly at a loss on how to decide between these two and would really appreciate any advice or feedback from everyone: the great experts of PS as well as new buyers like me! I'm sure she'll love either one, but I still have to pick one haha. Help?
Cheers