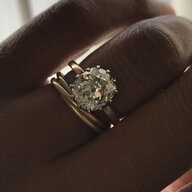 Joined

Jul 22, 2011
Messages

297
I feel badly about these photos because they *truly* don't capture the beauty of this amazing diamond, but I'm also accepting that I won't have the time or ability to take better pics for a while (have visitors staying with us through the month, not to mention taking care of baby really cuts into dedicated picture taking time!)
Adam was, as usual, an absolute pleasure to work with and he went above and beyond to accommodate my many requests and make this dream-come-true diamond my very own.
He had his bench modify my excel Tiffany replica setting to fit the diamond, and I am just thrilled with the results! The turnaround time on this was lightning quick- I purchased the stone one week ago, and he managed to get the setting modified, the stone set AND get the ring shipped out to me in 7 days, including the weekend!
Enough babbling, on to my completely inadequate photos- this diamond is AMAZING in person and I wish I could spend more time taking some decent photos to share!