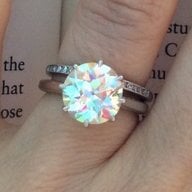 Joined

Dec 14, 2009
Messages

2,529
I have a 2.43 OEC on hold at an antique store. Wasn't really looking, but they pulled this out of the safe and it is making me think hard.
8.51 x 5.45 (sorry, no angles or other measurements)
L, VS1 (if I purchase I will have a GG confirm)
It is a little warmer than I typically like, but I can be happy with it and I like the facet pattern. It is $10.5K and I didn't think I'd be able to get a 2ct I liked for that low of a price. A couple of years back I explored getting a 2ct plus and everything was $15 - 21K so I stopped looking as I didn't want to spend that much.
I welcome your opinions.
All pics taken with iphone.
Youtube video -
https://youtu.be/7pO6LdKnp0A