Hello everyone-

Looking for some advice. I have a 2.01 round that I would like to reset in a cushion, squared or octagonal halo. I am trying to avoid the custom route frankly because I'm scared to. I have talked to quite a few jewelers in town and no one has been very helpful. So, my questions are
1. Who is the best on line retailer to deal with for a more modern, not delicate halo setting (I have seen quite a few Simon G pieces that I admire but I had a bad experience trying to work out a custom Simon G setting with a local retailer so I gave up)
2. Do you think I should pursue a ready made setting over custom? I would love to incorporate the 4 small (.30) diamonds in my band into a custom halo but don't feel confident that I would be 100% happy.
Here is my current setting. The whole reset process started because the bar set diamonds in my band continue to come loose and an entire band rework has been recommended.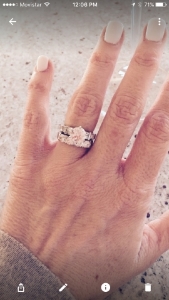 I so appreciate any input. I've been spinning my wheels for quite some time trying to determine the path to take.