Hi everyone - first post on here, I've been a PS lurker since right after we bought my wedding set (unfortunately before I found PS) 2 years ago. I've been itching to start a project and now have a great reason - I'd like to purchase a stacker band to signify my daughter's birth 6 weeks ago

. I would like to wear it with my wedding set and plan on giving it to her when she turns 18. Here are pictures of my wedding set (with spacer band) and some questions for you all: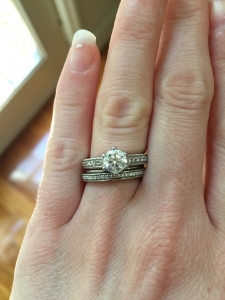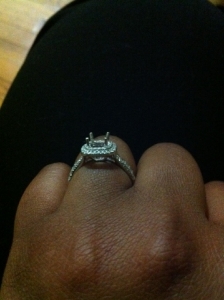 1) Stacker band ideas - While I really want a hand engraved band, I'm now thinking of a band with sapphires to signify her birth month - September. Possibly something similar to the CvB Juliette Bezel Set French Cut Sapphire and Diamond band found here:
https://www.etsy.com/listing/198617391/the-juliette-bezel-set-french-cut?ref=shop_home_active_24...........
. I would like for the band to be platinum - other ideas on stacker bands that would look good with my wedding set?
2) Sizing - Do you worry about matching the stacker band width and height to your current rings? I'm not sure of the band width and height of my wedding set, though may be able to determine that with your help (I'm a size 5.75ish and it's a Goldman set from Diamonds Direct - I have the style number if anyone is able to look it up?).
3) Potential designers - I'm thinking of working with David Klass or CvB on the project. Budget is $2k. I would always rather spend a little more and have higher quality. Thoughts on these two vendors or other vendors I should consider?
I love reading everyone's posts on here and can't wait to hear your thoughts - thank you in advance!