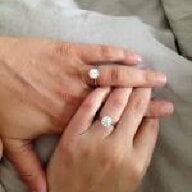 Joined

Mar 25, 2010
Messages

2,534
It's here!
Quick backstory: I was worried about getting a 60/60 diamond and asked a few Qs about this diamond in RockyTalky and also posted scope images.
I got the ring today and wow! Here are the specs:
1.7 carat
7.79x7.8x4.61mm (faces up more like a 1.8 carat)
G
eye-clean SI1
Polish/Cut/Sym: Excellent
Depth: 59.2
Table: 60
Pavilion angle: 41
Crown angle: 32.5
HCA: 1.4
Fluorescence: none
platinum 6-prong Tiffany-inspired setting
I'm blown away at how much it sparkles, and although it's a 60/60 diamond, I'm seeing fire in sunlight. It's SO WHITE, so glad I didn't go above a G in color!
I am not proposing, that's my GF's job (we are a same sex couple and she agreed to do the proposing), so she's just wearing it around the house today getting to know the ring. I'm put it away later
And finally, some photos. This is all with an iPhone camera, so, not the best. I'll do a better photo session another day (when I can pry it off her finger).
Oh, but first, I want to give a huge vendor shout out to
Yoni
of
EternitybyYoni
.com. He was so easy to work with and answered all my goofy questions. He's also very patient when you change your mind for like 14 seconds and then flip-flop back to the original decision
OK, pics:
on her finger (size 6), seconds after opening the fed-ex box: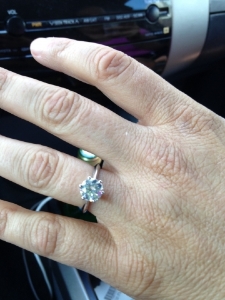 and the rest of the pics are in/on my hands (size 4.5):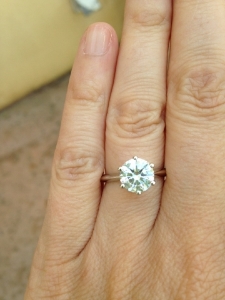 Kinda looks like it has fluor here, but it doesn't. Direct sunlight.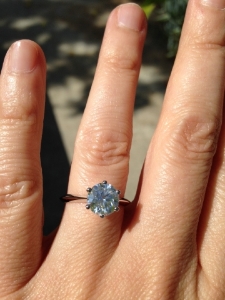 So white, even in profile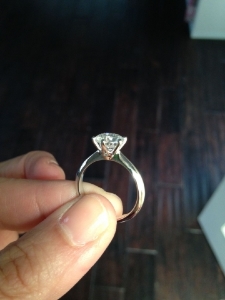 Blurry, but I was excited that even though it's a 60/60 diamond, it has fire!