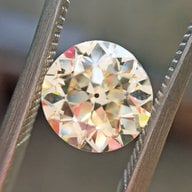 Joined

Dec 20, 2014
Messages

282

DS2006
suggested that I start a new thread about my latest lovely. I first got into the old cut love when I bought the original rose gold Erika Winters Iris halo from Jewels by Grace. She's beautiful, and I get the best compliments from people when I wear her, but lately, I started to feel that she was a little too ornate for daily wear (I have a 4-year-old and a 7-month-old at home). Also, I oftentimes have to wear a suit for work, and she didn't really "match" my work outfits. I was definitely getting bummed out over how rarely I felt like I could wear that ring. (I still have her and loathe to give her up, but I'm seriously considering selling her, because I don't see the point in having her at home all the time and *not* wearing her. Anyone interested?)
That led to my search for a loose OEC. I wasn't sure what size stone I wanted, or what kind of setting I'd like, but I knew I wanted to set a warm color in rose gold. I was basically spending all my free time scoping out JbG and LAD and trying to snag a good deal. I'd also read
ame
's post about her
BGD
tapered Tiffany style setting and thought it was gorgeous. In the meantime, I bought a pre-loved 7.5mm moissanite OEC ring to test out the size and cut. I was hooked immediately and wanted the real deal.
I'd been emailing back and forth with both Grace and Erica D. (they're both so nice and I'm sure were sooooo tired of me trying to lowball them!) for a while, and then Erica told me she had a 1.48 ct warm colored OEC coming in that would be at my price point. You know how the rest goes . . . I checked her out, fell in love, had her set by
BGD
, and now I have my everyday ring!
Pictures are below . . . I wear her as my engagement ring with a rose gold half eternity from
Blue Nile
(they have some great sales!) and a 1mm "Sol" spacer ring from JewelerOnTheRoof.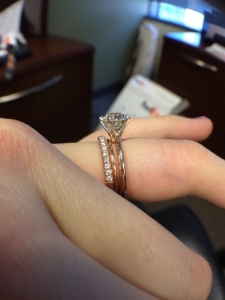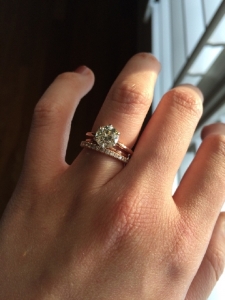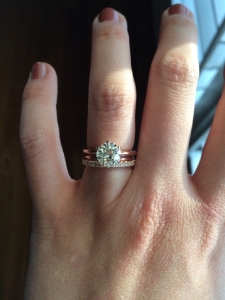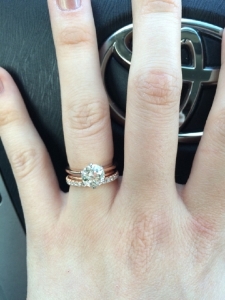 One of the things I love about these old cuts is how "wonky" they can be. Mine definitely has some light leakage in the middle, and I'm okay with that. I had considered getting an AVR or AVC, but I didn't want something so "perfect." I can't remember who said this, but someone on PS said that we don't live life "in macro," and I think that's so true.
Anyway, gotta go -- baby is calling. Thanks for reading!