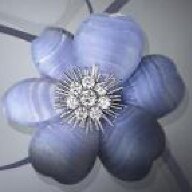 Joined

Aug 6, 2011
Messages

32
Hello Pricescope,

Not quite traditional, but I've been involved in choosing the diamond for my engagement ring. I've finally decided on
- round brilliant
- excellent cut, Would really love triple-excellent
- G is great, H is Hesitant, based on my ability to notice that warmth
- VS2 is perfectly fine. SI1 might be a possibility
- 7mm, Based on ring size 4.5 on left & 4.75 on right
- wait.. But bigger the better, right? Hehe

Anyways, my boyfriend fell in love with a diamond today. He placed a deposit to hold the stone, but I have that one last chance. Unfortunately, I will be unable to see it myself (thank you, horrible work schedule) before he pays the balance. Hoping to get some feedback from the experts.

Here are the details I copied from the online GIA report lookup

1.32 ROUND BRILLIANT GVS1 triple-excellent
Measurements: 7.06 - 7.10 x 4.36 mm
Depth: 61.6%
Table: 55%
Crown Angle: 33.5°
Crown Height: 15.0%
Pavilion Angle: 41.0°
Pavilion Depth: 43.5%
Star length: 50%
Lower Half: 80%
Girdle: Thin to Medium, Faceted
Culet: None
Fluorescence: None

I noticed people mention HCA, and I came up with =1.
I think it's pretty cool that the GIA report was issued on my birthdate.

PS. My first time joining a forum, but I've googled some of my questions and found the best upfront advice here. Thanks in advance!