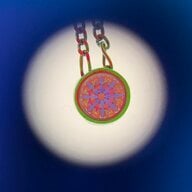 Joined

Sep 11, 2014
Messages

142
Hi PSers!
I'm very pleased to be making my first post in the SMTB forum.. I'll admit, it's very belated - I received my pendant Feb 12th - but better late than never, right?
I came across the Australian Diamond Network here on PS (the owner, Wade, posts on behalf of ADN on the forums). He was a dream to work with - we started with a budget and a picture of a pendant that I liked (I was after something inspired by the Barbara pendant from
BGD
, but couldn't justify getting something from them with the woeful AUD!), and went from there. Within a day or two, I was presented with a number of options to suit my needs (mainly for the stone, a combination of colour / clarity / carat combinations within my budget). Wade was incredibly patient, answering lots of repetitive questions and allowing me to change my mind multiple times before settling on something I was comfortable with - and the result is stunning. He went above and beyond to ensure I knew exactly what I was getting (photos and certs for a variety of stones, H&A shots for a variety of stones, and access to a digital SARIN report for my top pick), and he and his team kept me well informed during the manufacturing process.Turn around time was roughly 3 weeks, from when I gave the OK to proceed, to when I had it on my doorstep. He also included an independent valuation with the pendant at no cost to me, along with the GIA cert, and a copy of the sarin report (for a purchase of my size I don't believe this is standard, I believe it may have been processed by accident and then forwarded onto me as an extra surprise - lovely thought!).
Onto the exciting part - specs and pics! Please excuse my average photography skills.. I'm still learning! The stone is a 0.4 carat, GIA triple ex (also fulfilling AGS ideal criteria) F VS2. It achieved an 'ultimate' 3 star rating with regards to it's light performance according to it's Sarin profile. In person, it's a knockout. I love looking in the mirror each morning and seeing something special and beautiful that I bought for myself, just because I could. The setting is an 18ct white gold bezel, thin enough not to overwhelm the stone, but sturdy enough to feel secure.
First, a close up.. Which then got more zoomed in when I cropped, so sorry about the grainy quality!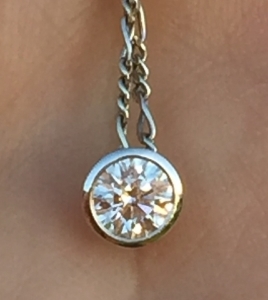 A couple of fire shots.. the blue is a reflection from the blanket I was sitting on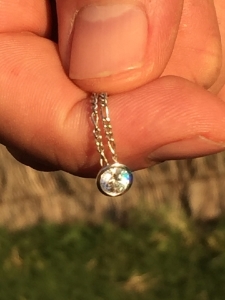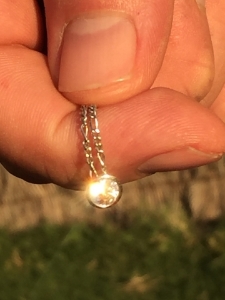 A look at the reverse side of the setting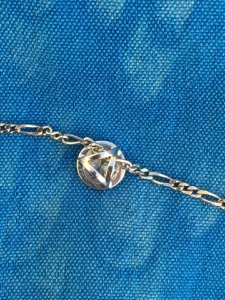 And lastly, a perspective shot.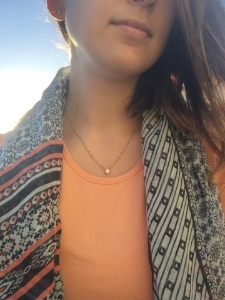 I hope this post is helpful!