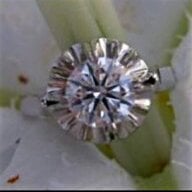 Joined

Nov 17, 2009
Messages

2,368
Alright, i admit it...I wasn't supposed to receive any more bling for the next...months...or should i say years?
But DH did it again and i can't complain

This year we hadn't discussed anything about Valentine's Day gifts. So i just decided to get DH an i-pad, because he had mentioned some time ago that he'd like to get one. I had hidden the box under the bed, but two days before Valentine's day i couldn't keep the secret any longer and i just presented the box to him! He was so excited! After he calmed down from his excitement, he said that he had something for me too

He went to his changing room and came back with the most beautiful jewelry box i have ever seen in my life! (I really have to take pictures of it too, now that i'm thinking about it!)
I opened the box and there they were...My new tiny 18kt yellow gold studs, with equally tiny diamonds of .06 tcw!
I love tiny gold earrings and i wear them a lot, especially because i enjoy putting them on and just...forgetting about them. Usually i even sleep with them. The problem was that i only had white gold studs, which match my ER and half eternity band. But since lately i was very lucky to obtain two new, yellow gold, rings, i was thinking that i needed a pair of simple, small, YG studs to match with them and i had told DH about it!
He really listens, doesn't he?
So enough with the talk...let's post some pictures!
Needless to say that my pics are not clear and good, as always
Sorry for that guys...
Also, i'm warning you that this is a very ...humble piece of bling...Nevertheless, as i've said before, diamonds are so amazing...even when they are tiny, they can give somebody a huge amount of pleasure...especially when they are given to you with love
Here we go: