By
Erika Winters
Do you covet a celebrity engagement ring style? Which style inspires you?
Classic
A classic solitaire engagement ring is always in style.
Kate Beckinsale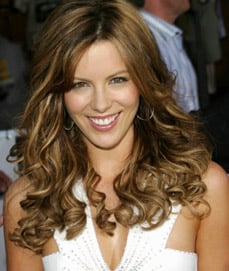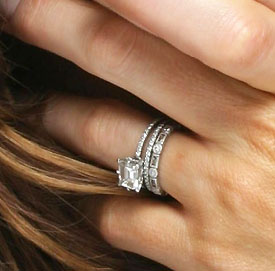 Kate Beckinsale – Engagement Ring
Kate Beckinsale's horizontally set emerald cut diamond ring is fresh classic. Stacked bands enhance the look of this lovely diamond solitaire. Other celebrities with classic jewelry style: Thandie Newton, Julia Roberts, Angie Harmon, and Gwyneth Paltrow
Diva
Does your engagement ring rival the biggest NFL Super Bowl Ring? When you walk into a room do all eyes go directly to your jewels? Yes? You're a diva.
Mariah Carey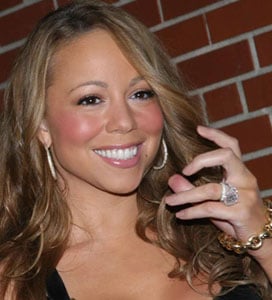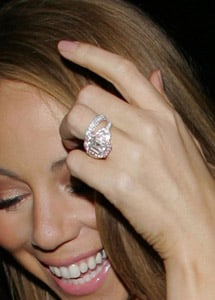 Mariah Carey – Engagement Ring

Nick Cannon gave Mariah Carey this Jacob & Co 17 carat emerald cut diamond ring estimated at $2.5 million. Famous divas – Madonna, Celine Dion, Christina Aguilera, Beyonce, Victoria Beckham – Remember, you don't have to be a singer to be a diva.
Romantic
Graceful curves and feminine details, romantic engagement rings whisper of intimacy.
Scarlett Johansson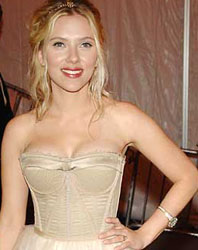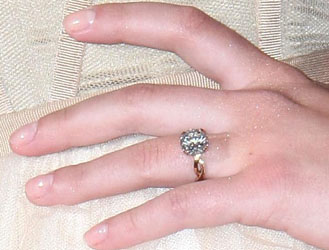 Scarlett Johansson – Engagement Ring
Rose gold with a feminine twist evokes the romance of a new engagement. Scarlett's ring features a round brilliant diamond set with double claw prongs. Other celebrities with romantic style engagement rings include Anna Paquin and Sarah Michelle Gellar.
Unique
Anything goes when it comes to celebrity engagement rings. Unique rings showcase your style and personality.
Fergie
Fergie and Josh Duhamel worked with jewelry designer H. Stern to create this one-of-a-kind star ring. The ring features a 4 carat round brilliant diamond with cognac and champagne colored diamonds radiating from the center. Other celebrities with unique engagement rings include Nicole Richie and Portia de Rossi.
Sophisticated
Clean and chic, sophisticated jewelry emphasizes bold lines with eye catching simplicity.
Eva Longoria Parker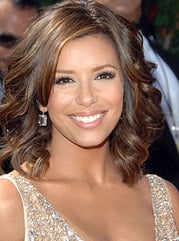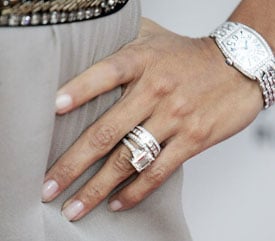 Eva Longoria – Engagement Ring
Eva Longoria Parker's engagement ring was designed by Jean Dousset and features a stunning emerald cut diamond. Other celebrities with sophisticated jewelry style: Sarah Jessica Parker, Ivanka Trump, Catherine Zeta-Jones, and Gwyneth Paltrow
Casual
Prefer a casual style? A stack of eternity bands may do the trick for an everyday look.
Jennifer Garner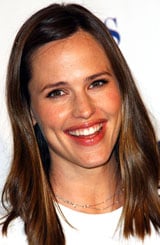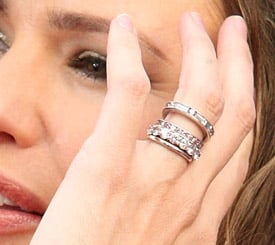 Jennifer Garner – Diamond Eternity Rings

Jennifer Garner is often seen wearing these stacked Harry Winston and Neil Lane diamond eternity bands. Stacking rings are perfect for a casual understated look. Other celebrities who embrace the casual glam – Katie Holmes, Maggie Gyllenhaal, and Kate Hudson
Vintage
Romance, history, beautiful details – Vintage engagement ring styles are timeless.
Milla Jovovich
Milla's 19th century engagement ring has yellow, pink and white diamonds set in rich yellow gold. The stunning three stone ring is from celebrity jeweler Neil Lane, who is known for his exquisite antique and vintage jewelry. Other celebrities with antique engagement rings include Nicole Kidman and Jennifer Love Hewitt.