By Erika W.


5 Celebs Put a Ring on the New Year
There was a flurry of holiday celebrity engagements with some large and fabulous diamond rings. A couple of the engagements were highly anticipated, while others were a complete surprise-and that includes Natalie Portman's announcement about her pregnancy! Welcome to 2011's celebrity engagement rings!
1. Reese Witherspoon and Jim Toth
Reese's ring is a 4 carat Ashoka diamond designed by William Goldberg. Ashoka diamonds are elongated cushion cuts with a scissor-like facet pattern. For more live pics of Reese's engagement ring visit: popsugar

Reese and Jim at a Lakers game
People
2. Vivica A. Fox and Omar "Slim" White
Vivica's ring features an 8 carat diamond with an estimated worth of $100,000. Club promotor, Omar White proposed to the Kill Bill actress on December 26th.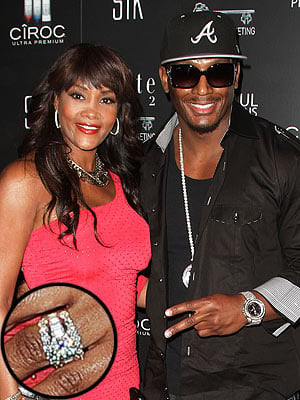 Vivica and Omar at LeBron James's birthday party

People
3. LeAnn Rimes and Eddie Cibrian
LeAnn's 5 carat oval cut engagement ring is set in rose gold with single-cut pave diamonds. The actress stressed that she wanted a fleur de lis motif, but the rest of the design was created by Cibrian and jeweler Brent Polacheck.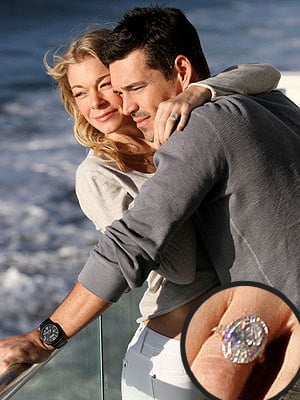 LeAnn and Eddie in Malibu
People
4. Hugh Hefner and Crystal Harris
Crystal's ring features a 3 carat round brilliant diamond. The 24 year old Playboy Playmate tweeted her engagement ring soon after the 84 year old mogul proposed on December 24.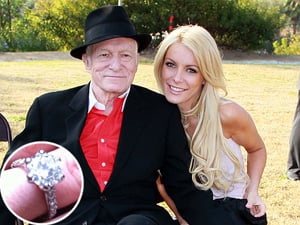 Hugh and Crystal at the Playboy mansion
People
5. Natalie Portman and Benjamin Millepied
*Update – Natalie Portman's engagement ring! Pics of the round diamond set in a delicate pave double halo have finally emerged. The couple met while filming Black Swan, and the actress announced her pregnancy just before the new year. Millepied is a principal dancer at New York City Ballet.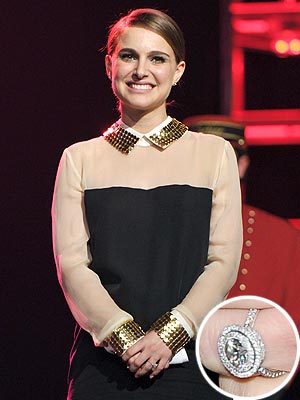 Natalie Portman at the Palm Springs Film Festival Gala
People
Share your celebrity engagement ring pics! Updated Celebrity Rings!