Green with Envy originally posted incredible OEC vintage bracelet on the Show Me the Bling forum at PriceScope.  How decadent is this? I love this vintage look, what do you think?
When Green with Envy went to New York City for work she hit the Diamond District in all her down time, she had not found the piece that absolutely needed to come home with her. Her trip got unexpectedly extended due to weather and it gave her an extra evening to search, leading her to this glorious vintage OEC bracelet!

It's an amazing feeling to find that piece that MUST be yours! Ari at Single Stone was an excellent guide, and she left very happy! We hope it is still as loved as the day it was found!
The Stats:
50 stone OEC graduated line bracelet– made around 1920's.
Bezel set with milgrain on top and sides.
Approx. 4.65 tcw and estimate H color range VS clarity.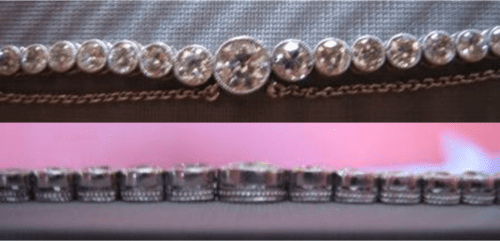 Visit the original post with more pics and join me in congratulating Green with Envy! Do you LOVE vintage looks, let us know in the forums at PriceScope!
On Throwback Thursdays, we celebrate beautiful pieces that have been shared over the years!
Thank you so much for sharing your jewelry experiences with us. Keep revisiting PriceScope's past with us each Thursday!
#TBT
Come show off YOUR fantastic bling with fellow jewelry lovers and trade professionals
Learn more about what diamond to buy from PriceScope