Chickpea posted these stunning handmade bezel studs on the Show Me the Bling forum at PriceScope.  Some may think of diamond studs as simple, but I think the word that is more apt is staple. They are a fantastic building block in any jewelry collection and this pair is a great example.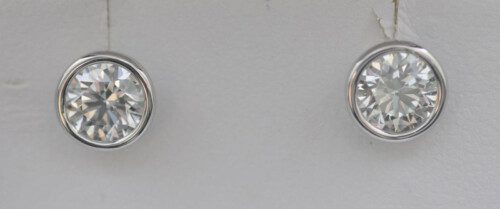 Chickpea said:" they face up very white – I can hardly detect any warmth in them. I'm sure the cut (and maybe the bezels) contribute to that. they are completely eye clean as well. if it weren't for PS I'd probably never have considered J or SI1, but I seriously couldn't be happier" That tracks with some of the diamond misconceptions that were just brought up in the PriceScope blog!
These beautiful diamond studs sit snugly against her ears, they are not overstated but absolutely lovely.  I love the way that the bezel looks here, these gorgeous studs could be worn in confidence for day or evening looks. We really hope that these have brought Chickpea a lot of joy over the years and that she is continuing to enjoy her Whiteflash diamond studs in health and happiness.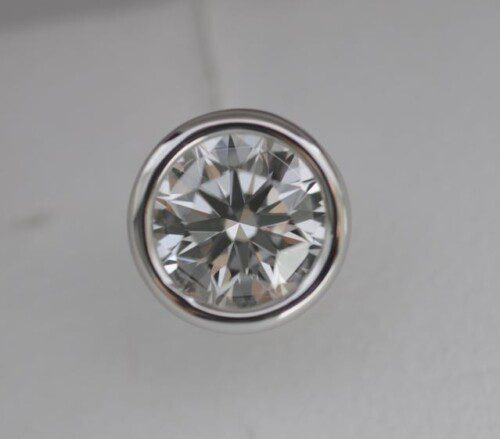 What are some staples of your jewelry collection, we love to see what you wear daily as well as the glamorous looks you wear for special events. What are your favorite staple pieces?
The Stats:
One diamond stud is .55 ES, J, SI1,
the other .574 ACA, I, SI1.

Visit the original post with more pics and join me in congratulating Chickpea! Studs are a staple, show us YOURS. 😊
On Throwback Thursdays, we celebrate beautiful pieces that have been shared over the years!
Thank you so much for sharing your jewelry experiences with us. Keep revisiting PriceScope's past with us each Thursday!
#TBT
Come show off YOUR fantastic bling with fellow jewelry lovers and trade professionals
Learn more about what diamond to buy from PriceScope