Vintage Cushion Cut Diamond Ring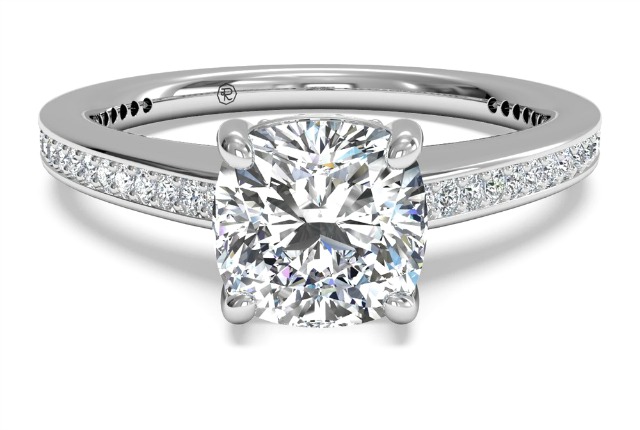 Vintage cushion cut diamond ring at Ritani
This beautiful cushion cut diamond ring with a unique yet simple vintage style has jewels encrusted in the band which is made of white gold. You can choose an 18 carat diamond stone or any other one that fits exactly what you're looking for.
Cushion cut diamonds have seen a tremendous surge in popularity over the past 18 months. We have seen everyone from celebrities to your average citizen wearing cushion cut jewelry.
And with good reason. Their popularity has enabled the cut to be found at every price point and carat size that you can imagine.
If vintage jewelry is your speed, then the cushion cut is for you. Although it has enjoyed a resurgence in popularity, make no mistake about it, the cut has been here far longer than the late 2000s.
True vintage lovers will gravitate towards the old mine cushion cut ring. It was created during 18th century Europe and was a popular cut back then, which means that jewelers can reference innumerable styles to create their own modern, yet vintage masterpiece.
This is especially great if you not only love diamonds but Edwardian and Victorian jewelry as well. Diamonds were one of the most precious gemstones during that time period, therefore it is easy to find plenty of cushion cut diamonds in vintage settings to fit your personal style.
If you are in the market for a authentic vintage cushion cut ring it is best to temper your expectations. Vintage cushion diamonds were cut by hand, which resulted in a rougher, more worn appearance.
If you prefer a cushion cut with more sparkle, then a vintage-inspired cushion cut ring is for you. That way you have the best of both worlds without sacrificing sparkle or style.
And we can safely say that Ritani's cushion cut, vintage inspired setting is the perfect stone for those who want to seamlessly mix old and new.