PS Member, Fuzzypill posted this incredible Cartier Trinity ring, and we are here for it. This Cartier ring is immediately recognized by most jewelry lovers. The lines and juxtaposition of the mixed metals and the one diamond pave band is stunning. This is our Throwback Thursday featured piece, from the Show Me the Bling! forum in the PriceScope community.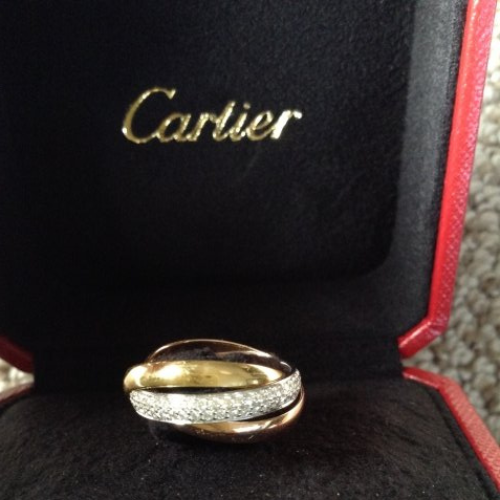 Visiting Las Vegas around her birthday weekend, Fuzzypill found herself at Crystals with her husband checking out the glamorous wares. She was interested in the Cartier Trinity, but when they showed her this dazzler she was afraid it was too much, though she loved it. It turned out that her husband doubled back under the ruse of meeting a friend and picked this up! What an incredible way to celebrate a 40th birthday, and what a sweet spouse to notice and fulfill that luxurious desire.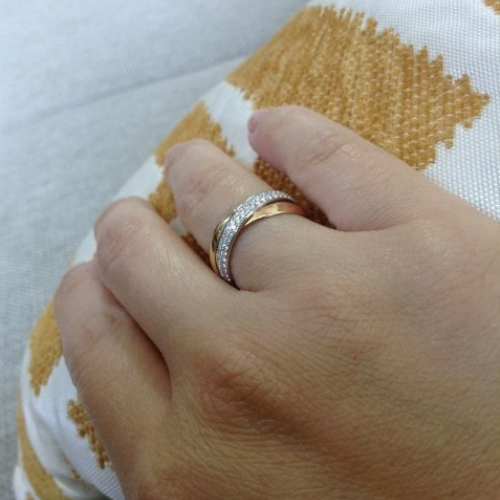 Fuzzypill, in response to the many well wishes on PriceScope said: "Thank you all so much for the sweet birthday wishes! Only here on PS can I indulge in my diamond/jewelry obsession."
Do you have a Cartier Trinity ring? We want to see it! Join the PriceScope community and show off your jewels in the Show Me The Bling! forum to be featured.
Written by Kayti Kawachi