PS Member, Lurkie91 didn't know that they would have an educational moment when they posted their gorgeous K Color graded diamond ring on the Show Me the Bling! forum. We knew that a color step down can be quite daunting, but this K blew us away reminding us that there is beauty all throughout the alphabet. This is the Jewel of the Week!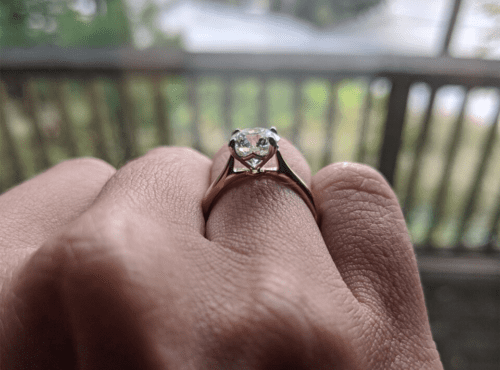 We know that Whiteflash knows how to handle diamonds and customer service, so it was no surprise to us that they could create such a success within Lurkie91's parameters. Lurkie91 is not alone with a bit of apprehension about going to a brick-and-mortar store during a pandemic. We are sure that jewelers are doing their utmost to maintain safety for their clients; though we understand some hesitation. Luckily for Lurkie91 there were really incredible online vendors for upscale jewelry, and PriceScope is here to shoppers in the right direction!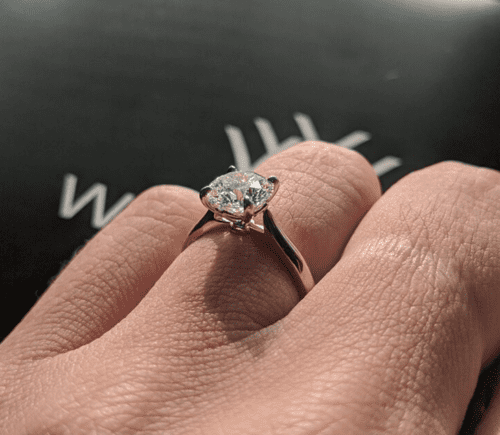 STATISTICS
The K Color Graded Diamond:
| | |
| --- | --- |
| Measurements | 7.43mm x 7.47mm x 4.6mm |
| Depth | 61.7% |
| Table | 54.9% |
| Crown Angle | 34.6% |
| Star | 50.0% |
| Pavilion Angle | 40.7% |
| Crown | 15.5% |
| Lower Girdle | 78.0% |
The setting is a Size 5 Yellow Gold Legato Sleek Line Solitaire with a White Gold Head (stock Whiteflash setting).
The warmth that is present in this diamond is not a detraction for Lurkie91 and I agree, I think it is beautiful! Congratulations on your new diamond ring, we are elated that PriceScope was able to help you with your success in getting the ring of your dreams.
Join us in congratulating PS Member Lurkie91 on her new ring.
Written by Kayti Kawachi