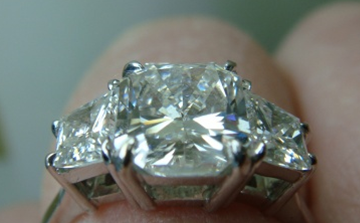 This Engagement Story is Radiant!
Lovindiamonds shared this jaw dropping Engagement Ring on the Show Me The Bling Community at PriceScope.com. If you've been paying attention, you know that I love a good story that comes along with a fabulous piece of jewelry. Lovindiamonds engagement story is marvelous and that ring is just incredible! I am in love with this whole piece of PS history.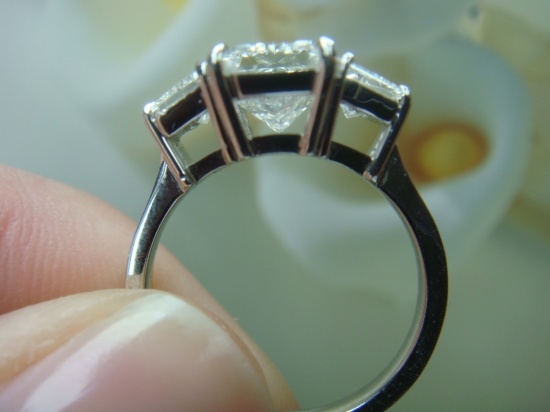 That center stone is the star of the show
So this story has twists, turns, and panic attacks. They were HS sweethearts, lived together for years after HS and then parted ways. She was married and has her gorgeous daughter, but that marriage was not meant to be and that chapter closed. After her marriage ended she and her HS sweetie found their way back to each other, and after several years had a magical engagement high above Golden Gate Bridge. Sometimes, love finds a way, and this ring celebrates that, and this love story that was meant to have a sequel.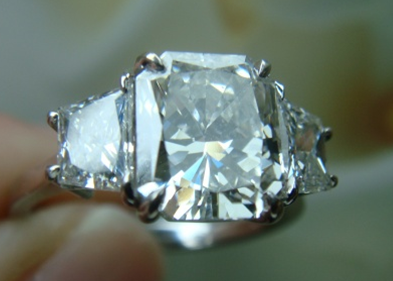 Celebrating the future and the past
They used the magnificent Mark Turnowski who is with Brilliantly Engaged which was formerly Engagement Rings Direct. Mark is no stranger to the PS community and his work is always outstanding!
The Stats:
Center Stone: 2.06ctw Radiant Modified Brilliant
Color: I:
Clarity: VS1
Report : GIA
side (trapezoid) diamonds are .38 each

To read more of the story and see more, click here for a fabulous engagement!.
For Throwback Thursdays, we take the opportunity to re-appreciate beautiful pieces that have been shared over the years!
Thank you so much for sharing your jewelry experiences with us. Keep revisiting PriceScope's past with us each Thursday!
#TBT
Need ideas for your own upcoming proposal? Visit the Proposal Ideas community at PriceScope.
Come show off YOUR fantastic bling with fellow jewelry lovers and trade professionals in the Show Me the Bling Community, here.