We are feeling the bracelet love! Last week, we celebrated a fantastic bangle, and this Jewel Of The Week is a magnificent tennis bracelet.  PS Member, Elysian knocked our socks off again with another stunning addition to their collection. When this bracelet was shared in the Show Me the Bling! forum, our jaws dropped!
Elysian said: "There are 46 diamonds in this 7-inch bracelet – that are 10.87 points each. This is their stock 3 prong setting in 14 WG, the prongs are not altered"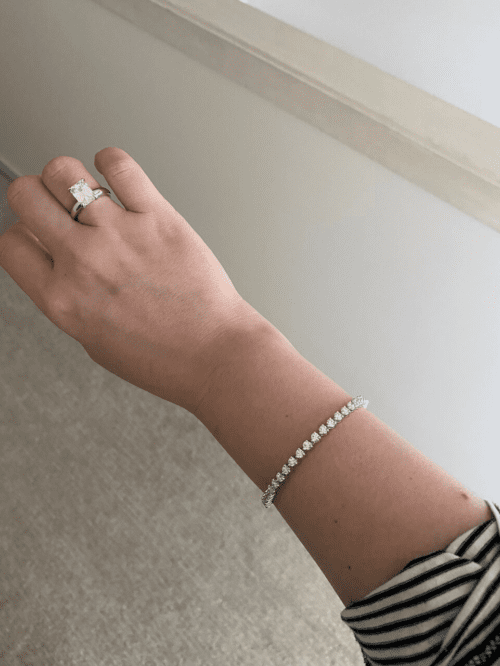 "The ACA diamonds are SUPER sparkly. I mean SUPER SPARKLY. "
Ah, I love diamonds at the wrist and the Whiteflash A CUT ABOVE® diamonds are spectacularly sparkly.
From the PriceScope Blog, "History of the Tennis Bracelet:" According to many jewelry fans, the modern "tennis bracelet" designation has been around forever but didn't really come into the national consciousness until 1987. Before that tennis bracelets were known as eternity or inline bracelets. They were presumably called inline bracelets when tennis superstar Chris Evert put hers on that morning to play in the U.S. Open. During the match, she noticed that her bracelet had come undone and stopped the match to retrieve her prized possession. This was the birth of the tennis bracelet.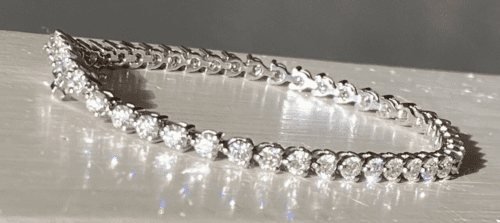 No matter how you look at it, tennis bracelets are here to stay; this one is gorgeous!
Congratulations Elysian! Thank you for sharing your fabulous new addition with us!
You could be featured as the next Jewel of the Week. All you have to do is register to the PrieScope Online Community and upload your latest jewel to the Show Me The Bling! forum.
Written by Kayti Kawachi