Acaw2015 posted this fabulous five stone ring on the Show Me the Bling forum at PriceScope. We see gorgeous five stone rings all the time, but the look of this one sets it apart. This ring came to Acaw2015 pre-loved, but it has a lot of love left to give! This is sparkle rich and marvelous, what a buy!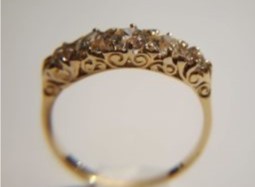 The detail on this beauty really are lovely. I like to imagine the past of antique pieces, who made it, who has worn it and for what events. I wonder what stories this five stone holds, and how many more it's yet to carry. I hope that it is in it's most wonderful chapter of all and that it brings Acaw2015 heaps of joy. Gorgeous addition, congratulations!
The Stats: (Per Acaw2015)
"It has five round old cut diamonds, ca 1.15 tcw, approx H-J, VS. The diamonds all have small culets. In between the prongs there are also 8 tiny diamonds, stated to be rose cuts. I doubt that, they look more like fragments/small irregular pieces, but I cant really tell, they are far too small to see what they are even with my 30 X loupe!"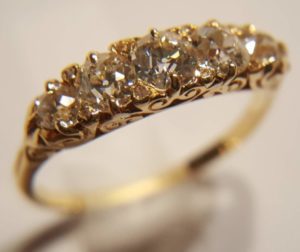 Go see the post with more pics!
The Jewel of the Week is our chance to feature and appreciate a recently posted piece from the Show Me the Bling Community!
Thank you so much for sharing your jewelry experiences with us. We look forward to seeing more!
#JOTW
Come chat with other connoisseurs of Antique and Vintage Jewelry here!
Show off YOUR fantastic bling with fellow jewelry lovers and trade professionals