Mynah*Bird originally posted this stunning OMC Antique Store Jackpot on the Show Me the Bling forum at PriceScope! Luck was not only a Lady, but apparently a Mynah Bird! Wow, what a find she made in this incredible antique diamond ring!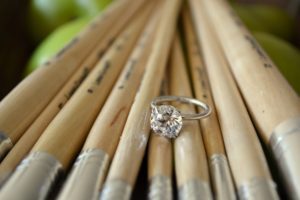 "Purchased in a local (non-jewelry) antique shop. Was for sale on consignment for an amazing price and listed as "3.5 ct antique unsymmetrical round cut stone set in platinum." We purchased the ring on a contingency that it was a diamond with no fracture fillers and had a clarity of SI1 or better. The setting was in pretty poor shape and 2 of the prongs were badly damaged while the others were wearing dangerously thin." said Mynah*Bird about this glorious antique piece, but it got better!
The ACTUAL Stats after inspection:
a chunky 4.21cts
and estimated as L color
Si1 (borderline Vs2) clarity
Goodness, may we all be so lucky! Mynah*Bird sold her original RB diamond in her engagement ring and is replacing it with this phenomenal buy! What a win!
Go see the post with more pics!
On Throwback Thursdays, we celebrate beautiful pieces that have been shared over the years!
Thank you so much for sharing your jewelry experiences with us. Keep revisiting PriceScope's past with us each Thursday!
#TBT
Come show off YOUR fantastic bling with fellow jewelry lovers and trade professionals
Learn more about Antique Diamonds from PriceScope