Allene originally posted this extravagant emerald cut diamond ring upgrade on the Show Me the Bling Forum at PriceScope. WOW! PriceScopers lean on each other and teach each other every day. When someone is looking to upgrade, coming to PriceScope is never the wrong first step! Allene used the knowledge that she gained on PS to end up with this incredible finished piece!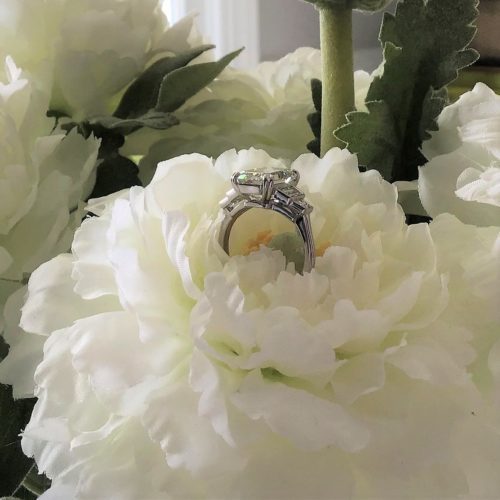 How gorgeous is this? I love how Allene put it, "The result is simply stunning. The new ring is a river of light. The stones seem to flow into each other. The center stone looks brighter than before – the proportions are just perfect. He's crafted a jewel that feels very substantial, yet delicate. In photos, the details are magnified; in real life, the bezels around the side trapezoids are so thin, they melt into the diamonds. And I'm sure everyone here is already familiar with the craftsmanship of his 'double eagle claw' prongs, which I absolutely had to have. He was also able to add a 'step effect' to the height of the side stones, so they are not set flat on one plane: the smaller sidestones are placed just a tiny bit lower than the bigger ones next to the center. It's subtle and adds dimension to the overall look. The overall effect is incredibly elegant." Victor Canera was incredible, yet again!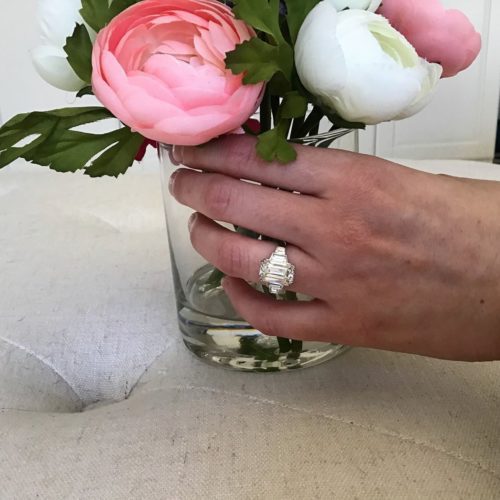 The Stats:
3.6 ct GIA Emerald Cut Diamond
Color: K
with side trillions
This ring is magnificent! Well done and congratulations, Allene! Thank you for sharing with us!
Go see the post with more pics!
The Jewel of the Week is our chance to feature and appreciate a recently posted piece from the Show Me the Bling Community!
Thank you so much for sharing your jewelry experiences with us. We look forward to seeing more!
#JOTW
Come show off YOUR fantastic bling with fellow jewelry lovers and trade professionals
Learn more about Emerald Cut Diamonds from PriceScope