Mandyd posted these unbelievable diamond studs to the Show Me the Bling forum at PriceScope.com and really brought the WOW power! I love diamond studs, I feel like they can be worn on the red carpet, or to dress up a daily wear look. Studs are classical beautiful while being wildly versatile which makes them a staple for most jewelry collections. This particular pair of diamond studs is taking it up a few (ok…many) notches, and really amping the glam already found in diamond studs.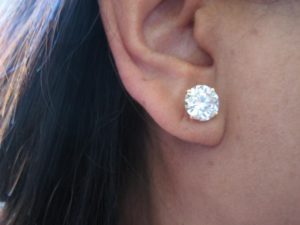 Just look at the ear lobe coverage, that is a seriously decadent set of diamond studs and I am just in love with them! I always hope that you will appreciate the jewels that I pick to feature as much as I do, but sometimes I absolutely know that you will, and this is one of those times! You could add jackets and make these drops, you could add a halo, you could leave them exactly as they are and have a really stunning pair of earrings that would be hard to stop looking at. Glorious, mandyd, I hope you still love these! These are another fantastic win created on the bench at
Good Old Gold
The Stats:
GOG 6.07 studs (3.03 + 3.04)
Color: I
GIA XXX
AGS 0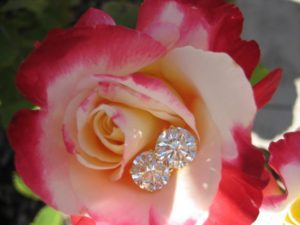 For Throwback Thursdays, we take the opportunity to re-appreciate beautiful pieces that have been shared over the years!
Thank you so much for sharing your jewelry experiences with us. Keep revisiting PriceScope's past with us each Thursday!
#TBT
Visit this link to read more about these fabulous studs and see more pics!
Come show off YOUR fantastic bling with fellow jewelry lovers and trade professionals on the Show Me the Bling Forum at PrinceScope.com
Learn more about Diamond Carat Weights here, PriceScope is your premier Diamond and Jewelry Community.