Dizzie shared her new fabulous diamond ring with us on the Show Me the Bling Forum at PriceScope.com,  and it took my breath away. What a beautiful piece. She called it an autumn dream come true and I am on board, that diamond ring is certainly dream worthy!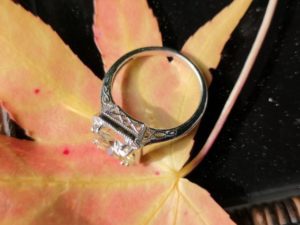 This diamond ring is beautifully set in a semi custom mount. Look at the intricate detailing in that profile, and I love that the setting is such that it takes the very minor inclusion into account while also not showing it. Since Dizzie already upgraded her Engagement Ring from the original .28 ct solitaire to a 1.3 OEC, she has decided that
this glorious piece
will fit the bill more as a right hand  ring. I hope that she gets many joyful seasons out of this diamond ring, but it all starts with Autumn.
The Stats:
Sold as: 2.51 ct Transitional N-O SI2 (Uncerted)
Appraised at 2.51 ct Transitional
Color: M
Clarity SI1
Congratulations on this fabulous diamond ring, Dizzie! I can't wait to see what you come up with next!
Go see the post with more pics!
The Jewel of the Week is our chance to feature and appreciate a recently posted piece from the Show Me the Bling Community!
Thank you so much for sharing your jewelry experiences with us. We look forward to seeing more!
#JOTW
Do you know your basic engagement ring anatomy? Learn more about engagement rings, here
Come show off YOUR fantastic bling with fellow jewelry lovers and trade professionals in the Show Me the Bling Community!
By: Kayti Kawachi