StephanieLynn Pretty Pink Pendant
StephanieLynn is at it again with this Pretty Pink Pendant that she shared on the Show Me The Bling Community at PriceScope.com. StephanieLynn's pink collection is to die for, and she just keeps adding more glam!
So much fabulous pink!
This particular piece brought me in with the bling, but kept me because it feels like the longer I look at it the more I see. The Old Mine Cut diamonds in the outside ring throw a ton of light around, and just look t all the tiny detail; I LOVE the little stars! The pink is so perfect and I can only imagine that StephanieLynn is sporting this as a stand out signature color! Beautiful, yet again StephanieLynn!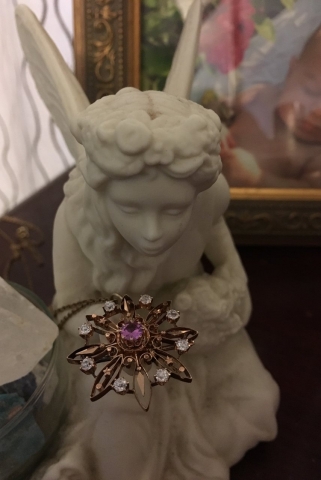 Like a pink flower being blown on the breeze
Want to see the entire post with more pics? the bling is in here!
The Jewel of the Week is our chance to feature and appreciate a recently posted piece from the Show Me the Bling Community!
Thank you so much for sharing your jewelry experiences with us. We look forward to seeing more!
#JOTW
Want to learn more about colored stone buying? Get the skinny here!
Come show off YOUR fantastic bling with fellow jewelry lovers and trade professionals in the Show Me The Bling Community at PriceScope.