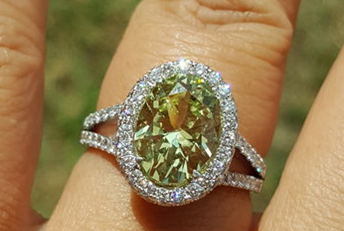 A Jeff Davies Chrysoberyl for Mellowyellowgirl
Mellowyellowgirl shared her Spectacular chrysoberyl ring with us in the Show Me the Bling Community on PriceScope! This center stone may not be a diamond, but it is far from lacking in the sparkle department! Wow that is some serious bling!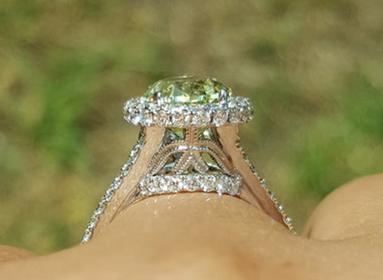 A Magnificent Mount
After buying this 2.94ct Chrysoberyl from Jeff Davies, Mellowyellowgirl asked for quotes for a setting intending to plan for 2018 yet she got a surprise! Jeff had a setting on hand that serendipitously fit this stone, a stunning mount that someone had commissioned and then not paid for; he was looking to recover his costs and she was looking for a perfect setting; kismet! What a lucky find, and a gloriously blingy result! I love it, it's fab!
Want to see the entire post with more pics? Read the story here
The Jewel of the Week is our chance to feature and appreciate a recently posted piece from the Show Me the Bling Community!
Thank you so much for sharing your jewelry experiences with us. We look forward to seeing more!
#JOTW
Do you know all you can about colored gems? Learn more about colored gemstones, here.
Come show off YOUR fantastic bling with fellow jewelry lovers and trade professionals in the Show Me the Bling Community, here.