By
Erika Winters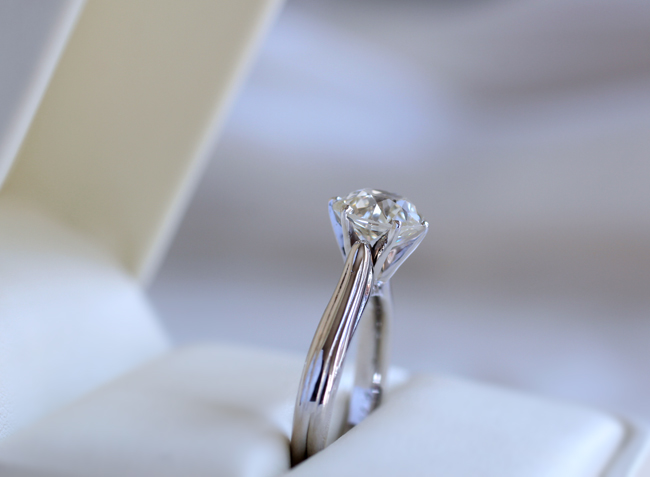 Should Starbucks employees be able to wear their engagement rings to work?
If you're like me, and many of us here at Pricescope, you love to see bridal jewelry on just about everyone when you're out and about town. And I've seen some absolutely gorgeous engagement rings at my local Starbucks–on employees. One in particular made my heart go pitter-pat several weeks ago, an antique platinum engagement ring with beautiful detail. I'm a bit sad that I won't be able to see that ring anymore when I grab a quick cup of joe, as Starbucks has revised its company dress code to eliminate rings set with stones.
From the new dress code:
"There are food safety rules we have to live by. Here's the fine
print – wearing a ring is okay if it's a plain band, no stones. Unfortunately, no watches, bracelets or wristbands are allowed. Simple necklaces can be worn under your clothes."
Starbucks' safety requirements are understandable, but I've been noticing engagement rings (and other blingy rings) on their employees for years. And I think of the newly engaged, wanting to wear that special symbolic piece to work. Or I think of the women who may wear a sparkling ring to send a message that they are "taken" to customers who might harass them at work, an unfortunate reality in the service industry.
According to CNN, Starbucks employees (and their spouses) aren't too happy about this change in their dress code policy.
One man sounded off on social media with: "Now my wife can't wear her wedding ring during her shift? So whose name do I put on the lawsuit when she's harassed?"
And another said: "To Starbucks: my wife just said you've instituted a policy that she can't wear her wedding ring to work anymore. Where are your brains?"
At KomoNews.com an employee had this to say:
"I'm not stirring someone's drink with my ring," said a long-time employee, who asked to remain anonymous for fear of losing her job. "It's awesome they now allow you to wear tattoos, but it seems weird to not allow anyone to wear a wedding ring. A lot of people are upset."
The change stems from Starbucks' expansion into serving more food. Well, at least workers, like others in fields where an engagement ring might not be comfortable, could possibly wear it under their clothing on a chain.
Do you think Starbucks employees should be allowed to wear rings to work? Cast your vote! And if you do think they should be able to continue to wear their engagement rings, you can post to your social media with the hashtag #MakeLoveNotCoffee started by ring retailer Robbins Brothers, which thinks they should.
Related:
Poll: Women – Do You Take Off Your Engagement or Wedding Rings to Advance Your Career?