We've never been quiet about or love of fancy colored diamonds, especially fancy yellow diamonds. We could talk about those sunny beauties all day long. However, we feel like we've been neglecting some other beautifully colored diamonds. Therefore, we're taking time out today to highlight some stunningly beautiful colored diamonds in the hopes that these diamonds will steal your hearts much like our favorite sunny yellow gems stole ours.
Flower Power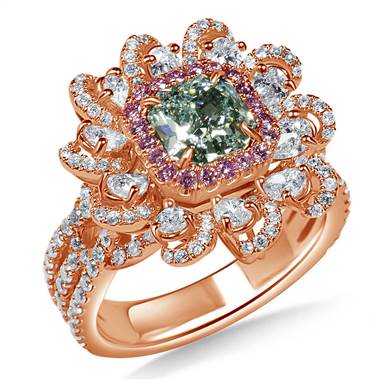 We love interesting jewelry because it keeps us on our toes and they're always full of a new surprise you may not have previously noticed. We find this to be just as true when examining this floral ring. The center stone is a fancy blue green diamond surrounded by magnificent diamond petals. We definitely want this ring to plant itself right in our jewelry box!
Red Carpet Radiance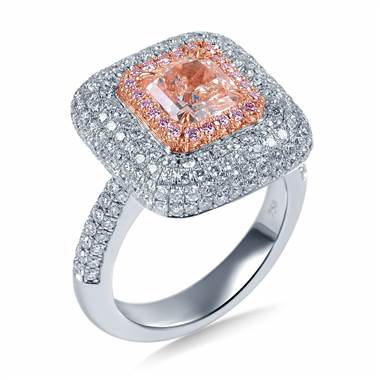 If you're looking for a star amongst stars, then look no further than this radiant cut pink diamond. Pink diamonds rose to prominence when none other than JLo received one, six carat pink diamond engagement ring from Ben Affleck. That event launched pink diamonds' popularity into the stratosphere and now you can have your very own rosy radiant beauty to include in your collection.
Grey Gardens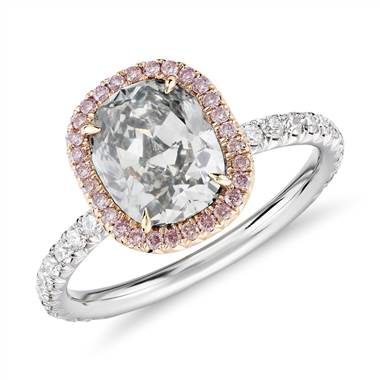 Grey has long been the color selected to describe blandness, uncertainty and general dreck. Not any more though. There is nothing bland about this beautiful grey-green diamond, especially uncertainty. We guarantee that this ring will get everyone to say yes and throw grey diamonds into the spotlight where they belong!
Do you see why we highlighted these fancy colored diamonds? They're radiantly beautiful and give fancy yellow diamonds a run for their money. But, why make them compete? Why not fall in love with all diamonds and include some fancy colored ones in your jewelry box!

By PS Staff