By
Erika Winters
Sinuous and sensual, serpents have been modeled in jewelry since antiquity. One of my favorite pieces is a Romano-Egyptian snake bracelet in the Getty Villa's permanent collection in Malibu, California. The ancient snake represented a whole host of meanings and was used across the globe as a sacred symbol of fertility, renewal, and desire.
And it's easy to adore serpent jewelry from the Victorian period, a time when adornment was infused with meaning: a snake biting its tail represented eternity and everlasting love. Queen Victoria's engagement ring was in the form of a snake. So while the shape may send some running for the hills, the snake charms with a romantic message.
Although serpentine shapes are time-honored symbols in jewelry design, this Chinese New Year–which marks the start of the Year of the Snake–has us craving the coil with fresh interest. From vintage to contemporary, serpents continue to wind their way 'round us…yessss.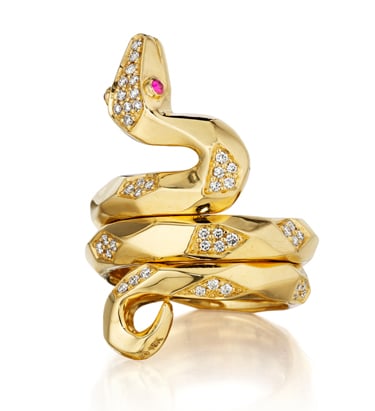 Couture Cleopatra Snake Ring in 18k yellow gold with rubies and diamonds • Mimi So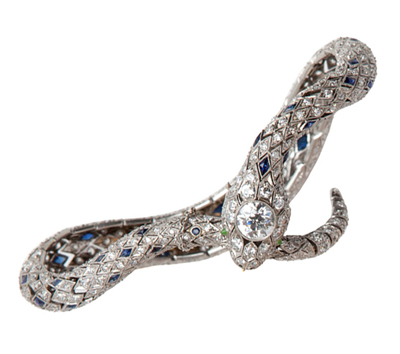 Caldwell & Co. diamond and sapphire serpent bracelet, circa 1930 • A La Vieille Russie at 1stdibs.com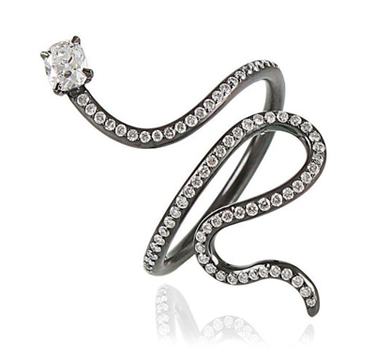 Arunashi diamond pavé snake ring • Marissa Collections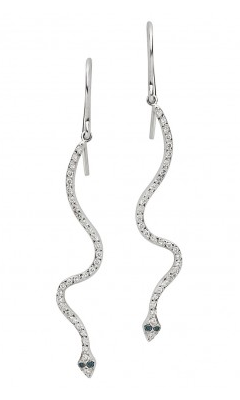 Lucky Snake Earrings • Ileana Makri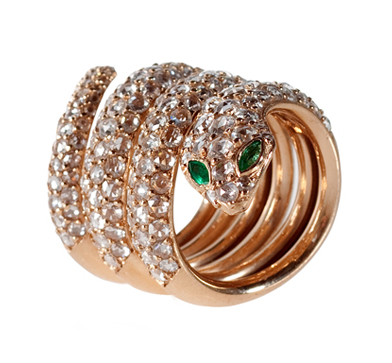 Julia Cohen 18k rose gold snake ring with emeralds and rose-cuts diamonds • Broken English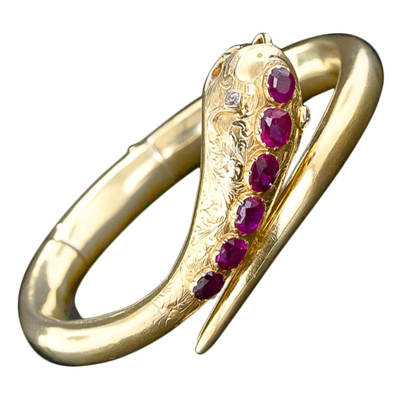 Victorian ruby snake bracelet • Lang Antiques at 1stdibs.com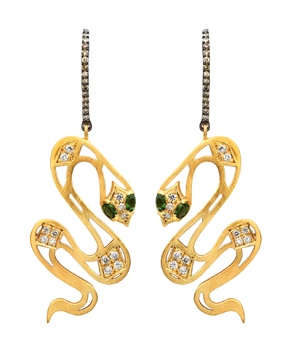 Meus large gold serpent earrings • Broken English
Related Blog Topics:
"The Temptation of Eve" by Stephen Webster Wins Couture Design Award
Jewels for the Bronx Zoo's Cobra
Accio Diamond Bracelet! J.K. Rowling Receives a Bejeweled Thank You