Diamond Prices News Roundup – October 2012
Retail diamond prices fell in October, and market uncertainty due to the upcoming U.S. elections and Hurricane Sandy have potential to further impact prices over the holiday season. Pricescope tracks retail diamond prices each month from a database of over 450,000 diamonds.
Pricescope members can also track retail price changes with our new Diamond Price Alerts feature. Visit New Pricescope Diamond Search Features: Price Alerts to learn more.
Retail Diamond Price Changes for October 2012
0 to 0.5 carat: no change
0.5 to 1.0 carat: + 2%
1.0 to 2.0 carats: – 2%
2.0 to 3.0 carats: – 3%
3.0 to 4.0 carats: – 3%
4.0 to 99 carats: – 4%
Pricescope Updated Diamond Price Chart
The Pricescope diamond price chart shows a 2% increase in retail prices for diamonds of 0.5 to 1.0 carat, a 2% decrease for 1.0 to 2.0 carats, a 3% decrease for 2.0 to 4.0 carats, and a 4% decrease for diamonds of 4.0 to 99 carats. There was no price change for diamonds of 0 to 0.5 carat. Pricescope has been charting retail diamond prices since 2007.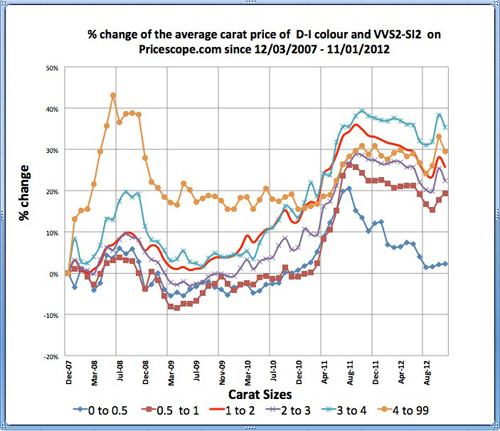 Rapaport: Certified Diamond Prices Decline 1.8% in October
Certified polished diamond prices continued to decline in October as economic and political uncertainties have diminished holiday expectations.
IDEX Online Research: Polished Diamond Prices -0.8% in October, 1 Ct Decline 1.2%
Weak demand and slow-paced purchasing by jewelry makers led to an overall decline in polished diamond prices in October.
Polished Prices: Weekly Market Report 04/11/2012
Overall, traders reported slower polished sales ahead of the Diwali festival, when factories in India's diamond industry close for about three weeks. Several traders raised concerns about the impact of the devastating storm 'Sandy' on consumer sales in the main US market as the end of year sales season begins.
Times of India: Diamond industry to remain close for 20 days in Diwali vacation
SURAT: Diamond emery wheels and diamond polishing equipments in the world's biggest diamond cutting and polishing centre in Surat will come to a grinding halt from Monday as 4,000-odd big, small and medium scale diamond manufacturing units will be closed for the 20 days long Diwali vacation.

National Jeweler News: Post-Sandy, the Recovery Begins
Exact figures on what Sandy has, and will, cost the Northeast and the region's many jewelers are incalculable right now.
Related Topics:
Retail Diamond Prices Rise in September
The Surprising Costs of Synthetic Diamonds
New Pricescope Diamond Search Features: Wish Lists, Price Alerts, and More!