DradiantR originally posted this fabulous radiant engagement ring on the Show Me the Bling forum at PriceScope.  This is a "Making of," journey to bring us through all the steps leading up to a gorgeous ring that we sure hope garnered a big YES!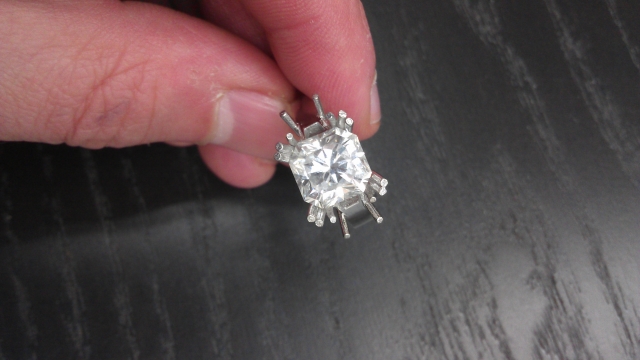 DradiantR wanted to share the progress on PriceScope because he had (wisely) used PS as a primary resource to educate himself before ring shopping! We love that people use PS to learn more about diamonds and jewelry, and double love when they share their finished pieces that are the result! We all win!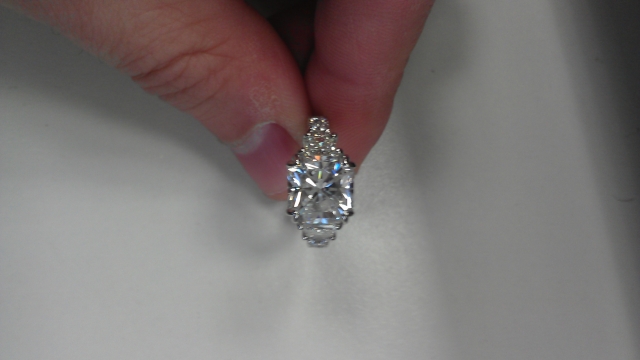 Love it, congratulations on your ring creation success story! I hope it's continued to bring joy in the intervening years! I like to imagine that all TBT engagement rings are still gracing the bride's finger in a beautifully happy marriage!
The Stats:
Carat weight: 3.62
Certificate: GIA
Color: F
Shape: Radiant
Clarity: VS2
Depth: 72.4%
Girdle: Thin-Slightly Thick
Table: 59%
Culet: None
Polish: Very Good
Symmetry: Very Good
Fluorescence: None
L/W/D (mm): 8.86 x 8.62 x 6.24
The ring is platinum with two brilliant cut trapezoid side stones, 0.54cttw, and sixteen 0.06ct rounds on the band in shared prong settings.
Visit the original post with more pics, and join me in congratulating DradiantR
On Throwback Thursdays, we celebrate beautiful pieces that have been shared over the years!
Thank you so much for sharing your jewelry experiences with us. Keep revisiting PriceScope's past with us each Thursday!
#TBT
Come show off YOUR fantastic bling with fellow jewelry lovers and trade professionals
Learn more about radiant cut diamonds from PriceScope