Radiant Cut Diamonds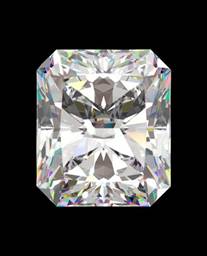 Square or Rectangular Cut Cornered Modified Brilliant
Radiant cuts are square or rectangular mixed cuts with angled corners.  Henry Grossbard patented the Radiant cut in the late 1970s, as a brilliant alternative to the Emerald cut.  Radiant cuts are often utilized to maximize color in fancy colored diamonds.  The nature of this cut aids in the concentration of color, and will sometimes push a light yellow diamond in the S-Z range into the fancy yellow category. Radiants are categorized as Cut Cornered Modified Brilliant cuts by major diamond grading labs.
**Visit Radiant Cut Diamond Prices for the latest retail diamond price statistics.
Special Characteristics of Radiant Cut Diamonds
Because of the angled corners, Radiant cuts lack the setting issues of sharply cornered Princess cuts, which require extra care.
Size Matters
Like Princess cuts, Radiant cuts generally look smaller from the "face up" position than other diamond shapes of the same weight as a result of their different design.
Basic Radiant Cut Guidelines courtesy of https://datlas.com/ 
CUT CLASSES
Class 1A
Class 1B
Class 2A
Class 2B
Class 3A
Class 3B
Class 4A
Class 4B

Ideal cut

Premium cut

International fine trade cut

US domestic average cut

below average

Table %

60-65.5%

59-68%

58-69.5%

57-72%

56-74%

53-76.%

50-78.%

>78%
<50%

Crown Height %

12-15.%

11-16%

10-16.5%

9-17.2%

8-18.0%

7-19.5%

6-20.5%

<6%
>20.5%

Girdle thickness
Word descriptions and percentages.

V. Thin to Sl. Thick
(0.4%-4.5%) or
Thin to Thick (1%-5.5%)

V.Thin to Thick(0.4%-5.5%)

Very Thin to Very Thick
(0.4% to 7.0%)

Extremely thin to
Extremely thick
(0.0% to >7.0%)

Total Depth %

60-65%

58-69%

57-74%

56-78%

53-80%

>80%
<53%

Polish/Symmetry
Not a primary determining factor.


Excellent to Good


Good or Fair


Poor to Fair

Square range
Length : Width ratios


Preferences only


0.95-1.05

Rectangular range
Length : Width ratios


Preferences only

1.5-1.75

1.49-1.26
1.76-1.99

> Class 3 < Class 3
CUT CLASSES
Class 1A

Ideal cut

Table %

60-65.5%

Crown Height %

12-15.%

Girdle thickness

Word descriptions and percentages.

V. Thin to Sl. Thick

(0.4%-4.5%) or

Thin to Thick (1%-5.5%)

Total Depth %

60-65%

Polish/Symmetry
Not a primary determining factor.

Excellent to Good

Square range

Length : Width ratios

Preferences only

0.95-1.05

Rectangular range

Length : Width ratios

Preferences only

1.5-1.75

CUT CLASSES
Class 1B

Premium cut

Table %

59-68%

Crown Height %

11-16%

Girdle thickness

Word descriptions and percentages.

V. Thin to Sl. Thick

(0.4%-4.5%) or

Thin to Thick (1%-5.5%)

Total Depth %

60-65%

Polish/Symmetry
Not a primary determining factor.

Excellent to Good

Square range

Length : Width ratios

Preferences only

0.95-1.05

Rectangular range

Length : Width ratios

Preferences only

1.5-1.75

CUT CLASSES
Class 2A

International fine trade cut

Table %

58-69.5%

Crown Height %

10-16.5%

Girdle thickness

Word descriptions and percentages.

V. Thin to Sl. Thick

(0.4%-4.5%) or

Thin to Thick (1%-5.5%)

Total Depth %

60-65%

Polish/Symmetry
Not a primary determining factor.

Excellent to Good

Square range

Length : Width ratios

Preferences only

0.95-1.05

Rectangular range

Length : Width ratios

Preferences only

1.5-1.75

CUT CLASSES
Class 2B

International fine trade cut

Table %

57-72%

Crown Height %

9-17.2%

Girdle thickness

Word descriptions and percentages.

V.Thin to Thick(0.4%-5.5%)

Total Depth %

58-69%

Polish/Symmetry
Not a primary determining factor.

Good or Fair

Square range

Length : Width ratios

Preferences only

0.95-1.05

Rectangular range

Length : Width ratios

Preferences only

1.49-1.26

1.76-1.99

CUT CLASSES
Class 3A

US domestic average cut

Table %

56-74%

Crown Height %

8-18.0%

Girdle thickness

Word descriptions and percentages.

Very Thin to Very Thick

(0.4% to 7.0%)

Total Depth %

57-74%

Polish/Symmetry
Not a primary determining factor.

Good or Fair

Square range

Length : Width ratios

Preferences only

0.95-1.05

Rectangular range

Length : Width ratios

Preferences only

1.49-1.26

1.76-1.99

CUT CLASSES
Class 3B

US domestic average cut

Table %

53-76.%

Crown Height %

7-19.5%

Girdle thickness

Word descriptions and percentages.

Very Thin to Very Thick

(0.4% to 7.0%)

Total Depth %

56-78%

Polish/Symmetry
Not a primary determining factor.

Good or Fair

Square range

Length : Width ratios

Preferences only

0.95-1.05

Rectangular range

Length : Width ratios

Preferences only

1.49-1.26

1.76-1.99

CUT CLASSES
Class 4A

below average

Table %

50-78.%

Crown Height %

6-20.5%

Girdle thickness

Word descriptions and percentages.

Extremely thin to

Extremely thick

(0.0% to >7.0%)

Total Depth %

53-80%

Polish/Symmetry
Not a primary determining factor.

Poor to Fair

Square range

Length : Width ratios

Preferences only

0.95-1.05

Rectangular range

Length : Width ratios

Preferences only

> Class 3 < Class 3

CUT CLASSES
Class 4B

below average

Table %

>78%

<50%

Crown Height %

<6%

>20.5%

Girdle thickness

Word descriptions and percentages.

Extremely thin to

Extremely thick

(0.0% to >7.0%)

Total Depth %

>80%

<53%

Polish/Symmetry
Not a primary determining factor.

Poor to Fair

Square range

Length : Width ratios

Preferences only

0.95-1.05

Rectangular range

Length : Width ratios

Preferences only

> Class 3 < Class 3
Courtesy of D.S. Atlas, Accredited Gem Appraisers, © AGA 1998-2004
Radiant Cuts posted on Pricescope
Threads with pictures of Radiant Cuts
https://www.pricescope.com/forum/rockytalky/helpful-threads-archive-t20713.html
https://www.pricescope.com/forum/rockytalky/helpful-threads-archive-t88394.html
Thread discussing Radiant Cut Quality
https://www.pricescope.com/forum/rockytalky/helpful-threads-archive-t36357.html
Next Diamond Tutorial: Emerald Cut Diamonds »
Discuss radiant cut diamonds on the forum