ForteKitty originally posted this unbelievably gorgeous Nambian garnet ring on the Show Me the Bling forum at PriceScope.  Whoa, that color! What an incredibly intense hue, it's too fabulous for words!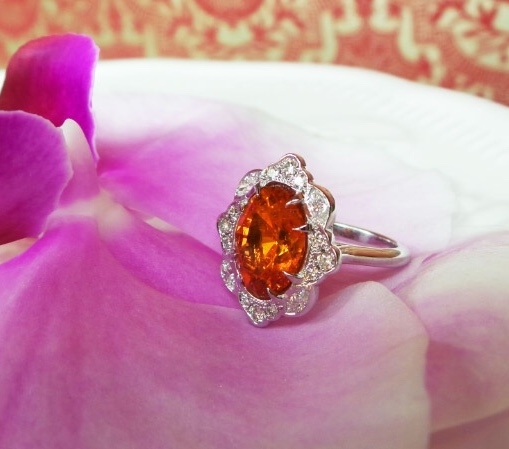 Garnets are a set of closely related minerals that form a group, resulting in gemstones in almost every color. Red garnets have a long history, but modern gem buyers can pick from a rich palette of garnet colors: greens, oranges, pinkish oranges, deeply saturated purplish reds, and even some blues. (from GIA)
Mandarin garnet is unequivocally orange, but its exact definition can vary. "Mandarin garnet" has been used as a trade name for vivid orange spessartite garnets from Namibia as well as a trade name for all spessartite garnets that possess that color. In the mid 1990s, the only garnets that fit either description were from Namibia. Like other garnets, these gemstones were mixed species. Their average composition was 85 mol.% spessartite, 12.5 mol.% pyrope garnet, and 2.5 mol.% grossular garnet. The high manganese (Mn) content of spessartite gave them their striking orange color. (from gemsociety)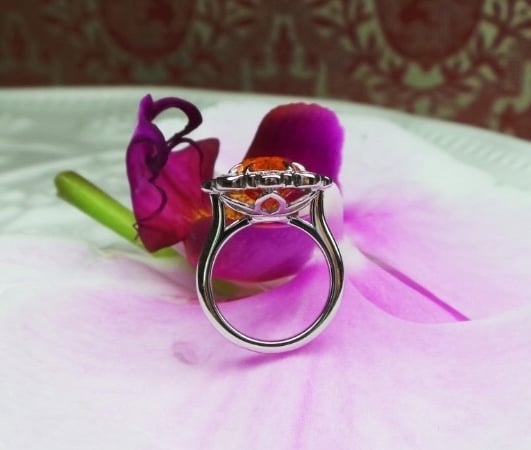 Fortekitty got this marvelous stone from MasterCutGems and held onto it for several years, waiting for the perfect setting to find her. When she went into David Klass, she was there to set another gem, but this setting spoke to her and she knew what it was meant to be.
Love it, congratulations on your ring creation success story! I hope it's continued to bring joy in the intervening years!
The Stats:
Clarity: Vs2-SI-1
Color: intense orange no red or yellow or brown
Cut: barion brilliant oval
Origin: Namibia
Size: 11.2 x 8.4 mm
Treatment: none
Weight: 4.75 carats
Visit the original post with more pics, and join me in congratulating ForteKitty
On Throwback Thursdays, we celebrate beautiful pieces that have been shared over the years!
Thank you so much for sharing your jewelry experiences with us. Keep revisiting PriceScope's past with us each Thursday!
#TBT
Come show off YOUR fantastic bling with fellow jewelry lovers and trade professionals
Learn more about Halo Rings from PriceScope