Cokitty originally posted this incredible fancy blue and white diamond necklace on the Show Me the Bling forum at PriceScope.  OMG, when I found this, not only is it stunning, cokitty was brand new to PS!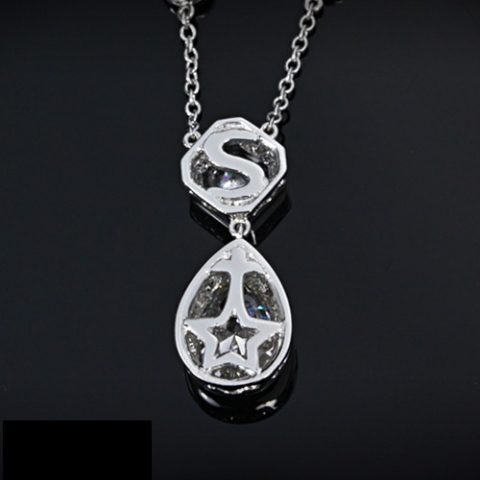 Cokitty had this gorgeous fancy blue diamond in her collection without a home, she turned to Whiteflash for a creative everyday piece. As a result this necklace was created and the world is more beautiful for it. The design on the back of the primary two stones represents the three things which cokitty values most: family (my last initial), God (the cross) , and country(the star).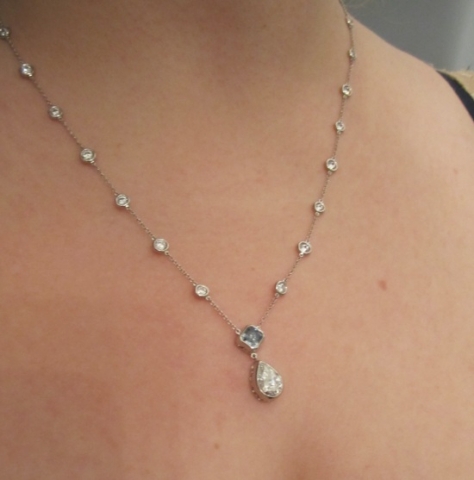 Love it, congratulations on your necklace success story! I hope it's continued to bring joy in the intervening years! I am so glad that you have remained a consistent poster with fabulous jewelry additions!
The Stats:
Whiteflash found the 1.33 pear and after seeing it in person with the blue she knew they had done a great job finding a stone that was just the right size. The chain holds 3 carats of ACA diamonds.
Radiant 0.50 FIB VS2 4.58×4.69
Pear GIA 1.33 (G/VS2) 6.16×9.04mm
Alternating 10 and 15 point stones in the chain
Jump rings to make the length of the necklace from 16″-18″-20″
Visit the original post with more pics, and join me in congratulating cokitty
On Throwback Thursdays, we celebrate beautiful pieces that have been shared over the years!
Thank you so much for sharing your jewelry experiences with us. Keep revisiting PriceScope's past with us each Thursday!
#TBT
Come show off YOUR fantastic bling with fellow jewelry lovers and trade professionals
Learn more about fancy blue diamonds from PriceScope
By Kayti Kawachi