Megeve originally posted this unbelievable fancy yellow Leon Mege diamond ring on the Show Me the Bling forum at PriceScope. Buttery and rich, this yellow diamond has stolen our hearts just like it did for Megeve when she laid eyes upon it!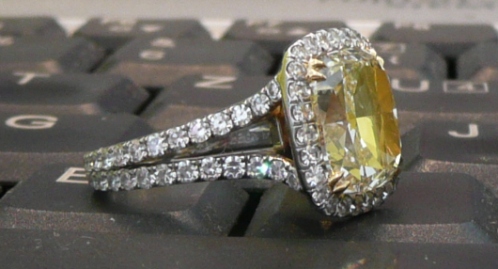 Megeve found this phenomenal yellow diamond in a sea of gorgeous that is a jewelry trade show. Baselworld is an International watch and jewelry show held each year in Basel, Switzerland. She knew what she was looking for, having spent a lot of time on PriceScope educating herself and enjoying all of the eye candy.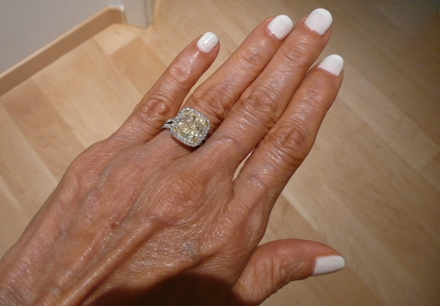 Love it, this thread seems to have been awakened a few years after it's original posting and again now. This ring is so absolutely stunning that we can't help but keep coming back to look again! It's hard to believe that Megeve bought this yellow diamond 10 years ago now, and brilliantly chose to have Leon Mege set it into this exceptional RHR. This is the kind of piece that Throwback Thursday was made for! Yum!
The Stats:
4.70ct y-z cushion that was discovered among a tray of yellow diamonds at the Baselworld 2010 trade show.
Visit the original post with more pics, and join me in congratulating Megeve
On Throwback Thursdays, we celebrate beautiful pieces that have been shared over the years!
Thank you so much for sharing your jewelry experiences with us. Keep revisiting PriceScope's past with us each Thursday!
#TBT
Come show off YOUR fantastic bling with fellow jewelry lovers and trade professionals
Learn more about fancy yellow diamonds from PriceScope