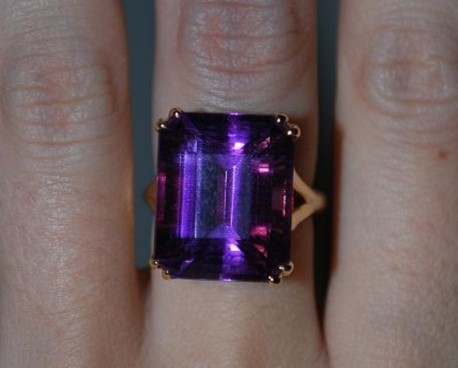 Purple Perfection with BE and Gary Dutton
ManhattanLawyer shared this jaw dropping Amethyst Ring on the Show Me The Bling Community at PriceScope.com. How much do you love a giant pop of color that is gorgeously set? If you are like me, the answer is a TON! Purple is my very favorite (though I love lots of colors) and this hue is deeply fabulous!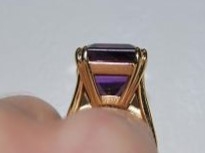 Masterfully set by Mark Turnowski
ManhattanLawyer sourced this beautiful amethyst from Gary Dutton, and had it custom set by Mark Turnowski of Brilliantly Engaged The contrast of the yellow gold on that deep purple is stunning! Mark Turnowski always creates something that is eye catching and creative. His talent is phenomenal and the results show it!
The Stats:
15.38 carat amethyst from Gary Dutton
Gold split shank, double-claw prong setting by Mark Turnowski
To read more of the story and see more, visit the original post here.
For Throwback Thursdays, we take the opportunity to re-appreciate beautiful pieces that have been shared over the years!
Thank you so much for sharing your jewelry experiences with us. Keep revisiting PriceScope's past with us each Thursday!
#TBT
PriceScope offers multiple jewelry search methods learn more about our searches here.
Come show off YOUR fantastic bling with fellow jewelry lovers and trade professionals in the Show Me the Bling Community, here.