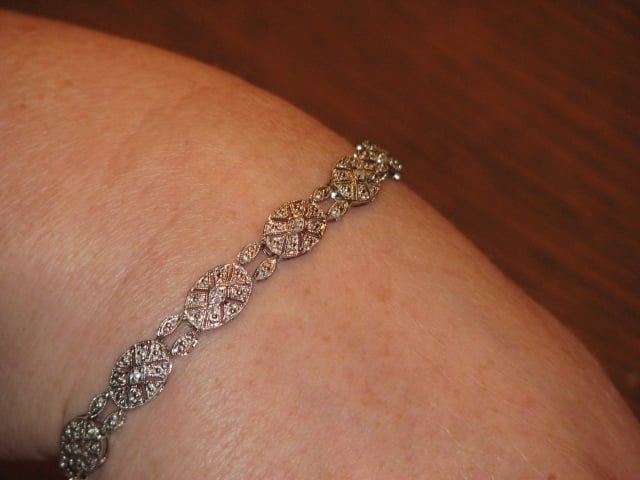 Antique White Gold and Diamond Bracelet for Stci
Stci shared this gorgeous Antique Bracelet on the Show Me The Bling Community at PriceScope.com. Isn't this just a glorious piece of old world glamour? The detail work is beautiful and it's substantial without being clunky. I think this is marvelous!
Paired with a fab RHR
This bracelet is estimated to be from around 1930, but it was in incredible condition and seemed like new when stci grabbed it up from an Ebay vendor! She had been considering a diamonds by the yard bracelet, and while we love dbty too this one seems to fit her personality and collection more! Just look at this bracelet paired with her right hand ring, isn't it divine? Big kudos, stci, what an incredible find!
To read more of the story and see more, visit the bracelet pics here.
For Throwback Thursdays, we take the opportunity to re-appreciate beautiful pieces that have been shared over the years!
Thank you so much for sharing your jewelry experiences with us. Keep revisiting PriceScope's past with us each Thursday!
#TBT
PriceScope offers multiple jewelry search methods learn more about our searches here.
Come show off YOUR fantastic bling with fellow jewelry lovers and trade professionals in the Show Me the Bling Community, here.