PS Teamwork is #Squadgoals
JPie shared this beautiful Diamond Cluster Conversion on the Show Me The Bling Community at PriceScope.com. This post spoke to me, and the ring is wonderful, I love it, but I also wanted to turn the spotlight a bit on the teamwork of the PS family. I love that so many posts throughout the many years of this forum include a story about other PS'ers helping meet a jewelry goal. I think that is something really unique and special!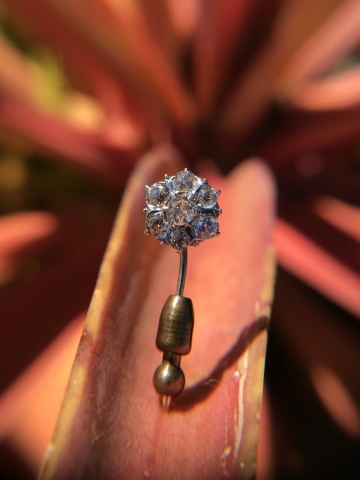 The original stickpin
The story here is that PS Member PintoBean found and sent the link to a Victoria Stickpin to JPie, JPie had David Klass convert it into this cluster ring that is darling! The finger coverage is fabulous and the teamwork is outstanding. Thank you to the PS family for always working together and helping each other reach your goals!
Go see the post with more pics! Follow me to the bling!
The Jewel of the Week is our chance to feature and appreciate a recently posted piece from the Show Me the Bling Community!
Thank you so much for sharing your jewelry experiences with us. We look forward to seeing more!
#JOTW
Do you know your basic engagement ring anatomy? Learn more about engagement rings, here.
Come show off YOUR fantastic bling with fellow jewelry lovers and trade professionals in the Show Me the Bling Community, here.