Blinggirl2 shared this incredible oval diamond handmade ring in the Show Me the Bling forum at PriceScope.com. This stunning ring was a gift to blinggirl2 from her loving husband, and the kicker is that he made it himself!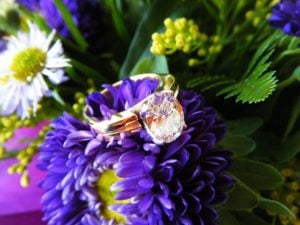 "The band is made of 14kt yellow and rose gold. My DH enlisted help from family members by asking them for any gold jewelry they don't wear. The rose gold comes from my late grandfathers wedding band. It truly is a "family" ring! " What an outstanding creation, and how incredibly touching and thoughtful, just amazing! The oval diamond was blinggirl2's husband's choice, and the finished product is phenomenal! I do love a great story to go along with some spectacular bling, and this brought the whole package!
Specs:
GIA cert
1.71 Oval Brilliant
9.68 x 7.20 x 3.90
Color: K
Clarity:VS1
You really need to go take a look the original post!
On Throwback Thursdays, we celebrate beautiful pieces that have been shared over the years!
Thank you so much for sharing your jewelry experiences with us. Keep revisiting PriceScope's past with us each Thursday!
#TBT
Come show off YOUR fantastic bling with fellow jewelry lovers and trade professionals
Learn more about Oval Diamonds from PriceScope